June 30
Download the final expedition report: Cruise Report Cuba's Twilight Zone Reefs: Remotely Operated Vehicle Surveys of Deep/Mesophotic Coral Reefs And Associated Fish Communities of Cuba (pdf, 17.8 MB).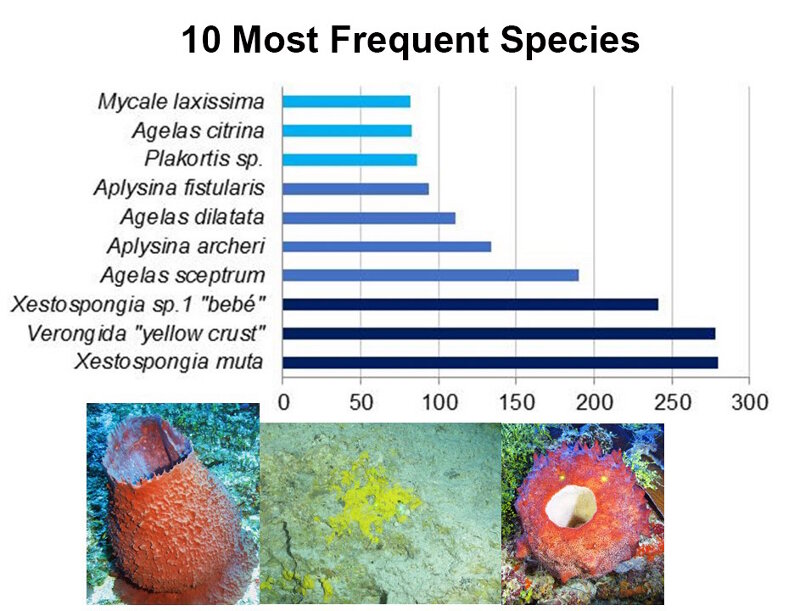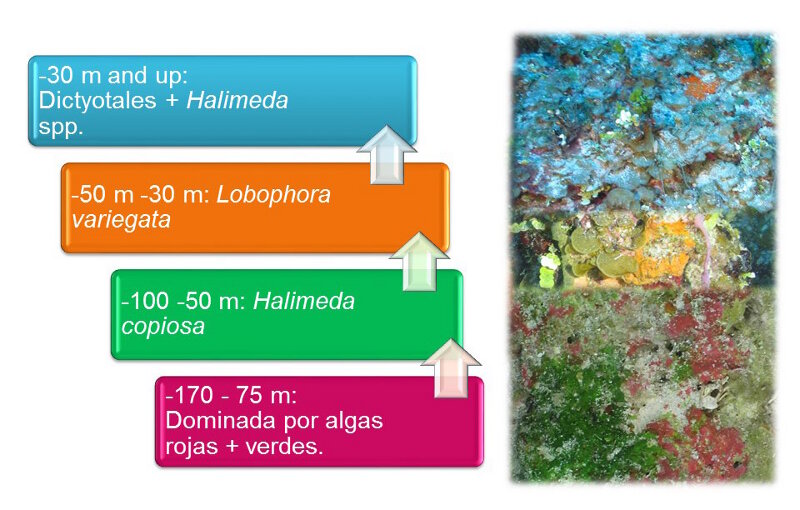 Last month, we set sail for Cuba on a dream that had taken nearly two years to implement. Long research cruises are a bit odd; you are basically imprisoned in a small living space, 24/7, with a group of individuals, most of whom you do not know. On this cruise, the internet and email were quite intermittent, with no TV, no newspapers. Basically, I felt quite isolated from world events, which may be a good thing, but also isolated from family and loved ones, which is a hard thing. Years ago, before email, we didn't even have contact with our families for the entire cruise, so it is easier now.
Prior to this expedition, there was very little known about the deepwater reefs along Cuba's coastline. Except for a few places along the coast, there were virtually no data or charts indicating what was beyond the shallow reef zone. However, the persistent worries that I had going into this cruise (what if we didn't find deepwater mesophotic reefs?), quickly faded as the cruise began.
What We Did
Leg 1 took us from Havana to the western tip of Cuba where we dove on the Banco de San Antonio and the Guanahacabibes Marine Sanctuaries. These are "Sister Sanctuaries" to the Florida Keys National Marine Sanctuary, the Flower Gardens Bank National Marine Sanctuary, and the Dry Tortugas and Biscayne National Parks, which were designated in a Memorandum of Understanding (MOU) between the United States National Oceanic and Atmospheric Administration (NOAA), the U.S. National Park Service, and Cuba's National Center for Protected Areas (CNAP). This MOU was the basis for the Joint Expedition.
Leg 1 finished up on the south coast at Cienfuegos, nearly 500 miles from the start. Leg 2, which continued around to the eastern tip and then along the north shore, was nearly double that distance. This meant long transits each night. Luckily, the weather held for the second leg, as there were no places to hide along this eastern end.
By any criterion, this expedition was an outstanding success. All cruise objectives were achieved.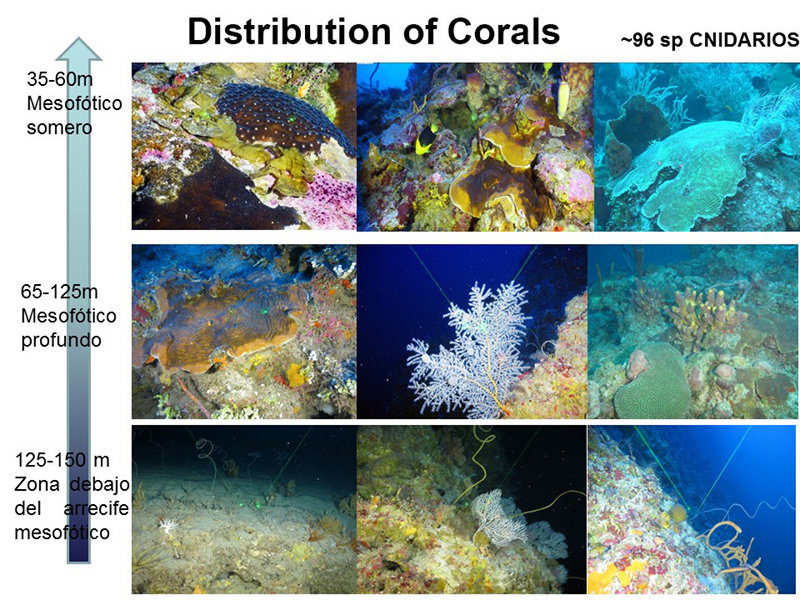 We discovered and documented deepwater mesophotic reef ecosystems as we circumnavigated the entire coast of Cuba. Our previous mission logs described these discoveries for each of the four sectors: northwest and western coast, southwest coast, southeast, and northeast coast.
At every dive site we discovered mesophotic reefs, which we documented from depths of 150 meters up to 30 meters. It appears to me that it is quite likely that mesophotic reef habitat probably fringes most of the Cuba coastline, nearly 1,500 miles (2,778 kilometers).
We documented the geomorphology, biological zonation, and diversity of marine biota at each site. In general, many of the sites are most similar to what I have seen around the Bahamas banks and islands. The deep island slope from depths of 150 to 125 meters consists of smooth carbonate rock with sand chutes which have eroded grooves into the steep rock facies (45-70 degree slope). This zone has mostly sponges and some gorgonian octocorals but has lower diversity and density than on the wall.
The lower mesophotic zone occurs at depths of 125 to 60 meters, which typically is a sheer vertical rock wall, highly eroded, with crevices, caves, and ledges. This zone is typically covered by an array of colorful sponges (Figure 1). Here we find the greatest diversity and density of sponges, along with various gorgonian and black corals. The first algae usually occur here, such as crustose coralline red algae and Halimeda green algae (Figure 2).
The upper mesophotic zone, from 60 to 30 meters, is where we find the greatest density of hard corals (Scleractinia; Figure 3), along with numerous sponges, gorgonians, and algae. The corals usually start appearing around depths of 60 to 70 meters; these are predominately plate-like Agaricia corals (up to a meter or more in diameter). At the shallower depths <40 meters, we start seeing species of corals, gorgonians, and algae typically found on shallow reefs. Although this description is a general summary of the dive sites, there were considerable differences among the dive sites and regions.
One big surprise for me was along the southeastern coast where the mile-high Sierra Maestra mountain range comes right down to the coast, and not too far to the south is the Cayman Trench which plummets to nearly five miles. I had expected the near-shore mesophotic reef zone to reflect this geology and expected vertical rock walls and even the possibility of granitic rock facies rather than the carbonate rock that we saw in western Cuba. But I was wrong; instead, we found a fairly low slope of only 45 degrees instead of the vertical walls. Also, the rock was carbonate, although we did pick up a small piece of what appeared to be granite rock.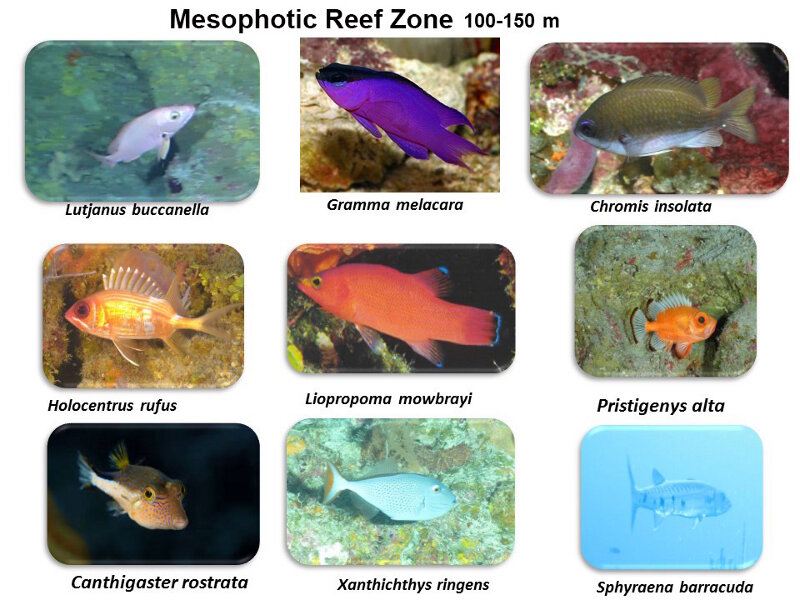 In addition to documenting these deep mesophotic reefs for the first time, important discoveries included numerous new species of sponges (Erylus, Aplysina, Cinachyrella, and Aaptos), which will be worked up and published later. Also we found several range extensions and depth records for several species of corals, gorgonians, sponges, algae, and fish. We documented 123 species of fish (Figure 4), including numerous grouper and snapper, on the mesophotic reefs.
Some sites had abundant corals, possibly some of the greatest densities in the Caribbean. For example, the mesophotic reef crest at Bahia de Cochinos (Bay of Pigs), had extensive fields of coral, forming overlapping sheets on the steep slope.
Approximately 22 percent of the Cuban shelf is designated as marine protected areas (MPAs), and many of our dives were within these MPAs. However, we identified at least four sites which currently are not protected but we feel that they should receive MPA status; some had dense cover of corals or populations of grouper and snapper which may indicate spawning aggregations (Figure 5) and Essential Fish and Coral Habitat.
Overall, the majority of the mesophotic reefs that we explored are very healthy, nearly pristine, compared to many reefs found in the U.S. We saw little evidence of coral disease, or coral bleaching. Evidence of human impact was limited to some lost long lines at some of the sites.
The biggest concern, however, is that we saw few large grouper (Figure 6). Some sites had a few grouper, but very few sites had many grouper. Also, lionfish (Figure 7) were present at most sites; we generally saw a few per dive. Only one site had several dozen lionfish. However, densities are much less compared to the U.S. mesophotic reefs. At Pulley Ridge mesophotic reef off southwestern Florida, we see hundreds of lionfish in a single remotely operated vehicle (ROV) dive. Also our studies of the shelf-edge MPAs along southeastern U.S., we see dozens of lionfish per dive at depths of 50 to 100 meters.
By the Numbers
We compiled the following data and samples: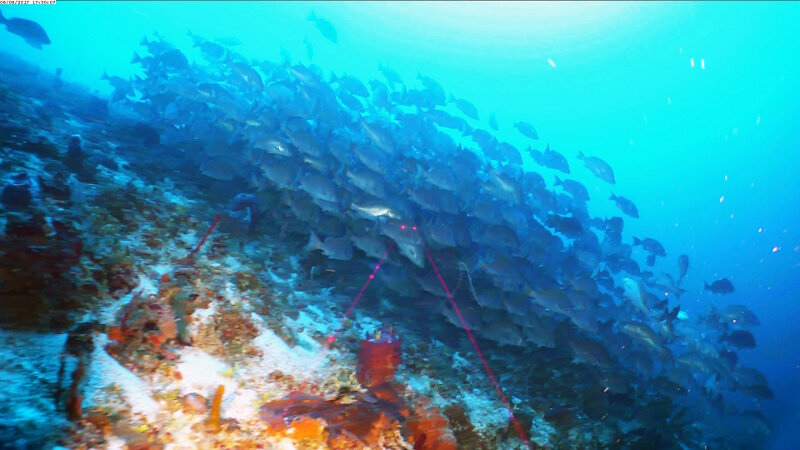 Circumnavigation of Cuba: 1,475 nautical miles (2,729 kilometers)
Total distance traveled by the ship from Havana to Havana: 1,887 nautical miles (3,494 kilometers)
Total # of ROV dives: 43
Total hours of ROV bottom time: 99 hours
Total ROV distance surveyed: 31 kilometers
Total # of underwater photographs by ROV: 19,985
Total hours of underwater video by ROV: 99 hours
Total # of CTD (temperature/salinity/depth) profiles: 21
Total # of water samples: 94
Total # of samples (marine plants and animals) collected by ROV: 333

28 scleractinian corals
22 octocorals
11 black corals
123 algae (green, red, brown macroalgae)
116 sponges
12 echinoderms
19 other species
This expedition would not have been the success it was without the hard work and collaboration of all the scientists from both Cuba and the U.S. that participated on the cruise. For each leg of the mission, teams paired up scientists from the U.S. and Cuba specializing in corals, sponges, algae, and fish. We logged thousands of dive notes, documenting the diversity and zonation of the taxa.
We plan to have a preliminary cruise report finished by September of this year, documenting each site and species lists. It will take much longer to analyze the data. We plan to finish the quantitative analyses of these data by next June for a final cruise report. This will document the density and percent cover of the corals and fish. We will also determine the genetic connectivity of the corals that we collected from Cuba with corals we have analyzed from the U.S. Flower Gardens Bank and Florida Keys National Marine Sanctuaries.
In November 2018, we plan to present the results of our expedition at the MarCuba International Symposium, followed by various publications. This was truly a fruitful collaboration of numerous institutions, universities and scientists; and I thank you all.