Sister Sanctuaries
Cuba lies at the confluence of the Gulf of Mexico, Western Atlantic, and the Caribbean Sea. Cuba's marine environment is a biological generator that powers the region's ocean ecosystem. As a consequence, conserving ocean species and places in U.S. waters would benefit from U.S. interaction with Cuba to strengthen the connections that sustain our common ocean resources.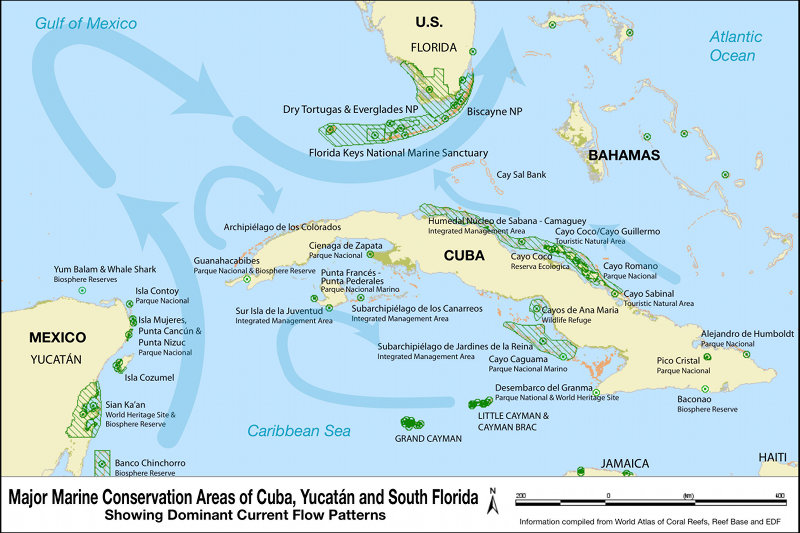 Currents flowing from the Caribbean through the Gulf of Mexico and into the Atlantic physically connect the Florida Keys to the coral reefs of Cuba. The coral reefs of Florida Keys National Marine Sanctuary are downstream from Cuba's reefs and benefit from the offspring of fish and invertebrates in Cuba that ocean currents convey to the sanctuary. Ensuring the health of Cuba's coastal ecosystem is therefore an essential part of strengthening and protecting the ecological integrity of the Florida Keys and the U.S. Atlantic coast.
NOAA's Office of National Marine Sanctuaries recognized this connection between its sanctuaries in South Florida and the Gulf of Mexico. Over the last few years, national marine sanctuary scientists and managers have engaged with Cuba's National Center for Protected Areas to find ways to explore and strengthen the connections between U.S. sanctuaries and Cuba's extensive network of marine protected areas. In doing so, those scientists and managers have built a relationship with their Cuban colleagues. This led to the signing of an historic Memorandum of Understanding (MOU) between the U.S. and Cuban governments in 2015 to develop strategies for linking their marine science, education, and management efforts at "sister sanctuary" sites in the U.S. and Cuba.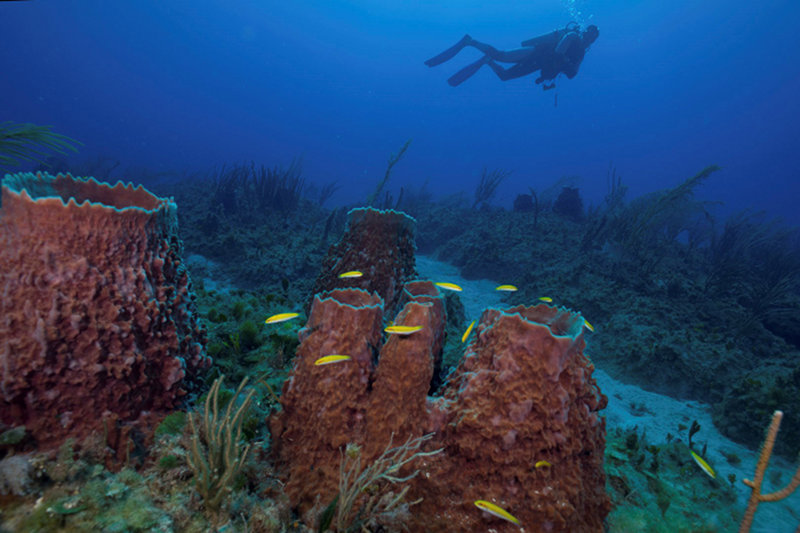 It is with this vision that researchers from Florida Atlantic University's Harbor Branch Oceanographic Institute aboard the University of Miami's Research Vessel Walton Smith are conducting a mission to Cuba to investigate deepwater coral communities at the sister sanctuary sites Guanahacabibes National Park and Banco de San Antonio on the western tip of Cuba. Using a remotely operated vehicle, the team of U.S. and Cuban scientists will be the first to explore some of Cuba's unique deepwater habitats with the goal to better understand Cuba's ecological connectivity to the Florida Keys and other reefs of the region.
This scientific coalition is established to study our shared marine environment. This expedition is showing how our two countries are able to work together to understand the connections between marine protected areas in the U.S. and Cuba and strengthen the ties that bind our marine ecosystems together.