Purpose
Why Are We Exploring the Twilight Zone Reefs of Cuba?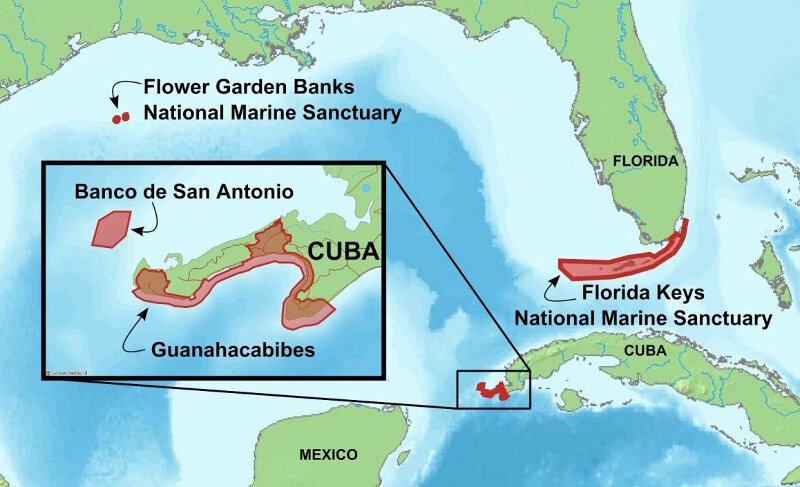 Most people are familiar with shallow water coral ecosystems and we are learning much more about deep-sea corals, but ocean explorers are also focusing on a third type of coral ecosystem: light-dependent deep reefs living in what is referred to as the mesophotic zone (or "twilight zone"), in depths of 30 meters to over 150 meters, depending upon water clarity.
Shallow-water coral reefs have been intensively studied by scientists using self-contained underwater breathing (SCUBA) equipment, while deep-sea coral systems are being investigated with human-occupied submersibles and underwater remotely operated vehicles (ROVs). Mesophotic coral ecosystems are beyond the safe range of conventional SCUBA equipment, and are often too shallow to require the use of submersibles and ROVs.
However, advances in undersea technologies over the past decade have begun to make investigating these mesophotic coral ecosystems possible. Data from these studies suggest these ecosystems include coral, sponge, and algal species that provide important refuges and nursery habitats for corals and fishes found on shallower reefs. Very little, however, is known about the abundance, distribution, community structure, and health of mesophotic reefs.
Building upon previous and current research by Cuban and U.S. scientists, from May 15 to June 13, 2017, this joint U.S. and Cuban exploration cruise will survey the deep mesophotic reefs and deep shelf-slope of Cuba. A Memorandum of Understanding between NOAA, the National Park Service, and Cuba's National Center for Protected Areas establishes a 'Sister-Sanctuary' relationship between the marine sanctuaries Guanahacabibes and Banco de San Antonio in Cuba and the Florida Keys National Marine Sanctuary (FKNMS) and Flower Garden Banks National Marine Sanctuary (FGBNMS) in the United States, recognizing that these places are all inextricably linked by the ocean.
The purpose of this cruise will be to discover and characterize the extent of mesophotic coral reef ecosystems in Cuba, and to compare health and physical, genetic, and ecological connections among both mesophotic and previously well-characterized shallow reef systems in Cuba, the southeastern United States, and Gulf of Mexico (particularly FGBNMS and FKNMS).
Remotely operated vehicle dives will focus on the mesophotic reef sites along the western coast of Cuba, with emphasis on three regions: Guanahacabibes, Banco de San Antonio, and the shelf break and seamounts along Golfo de Batabano. The science team will collect corals and sponges for molecular analyses and taxonomic studies to learn more about population genetics, gene expression, and symbiotic relationships within these ecosystems.
Exploration Technologies
The state-of-the-art 96-foot-long catamaran R/V Walton Smith , operated by the University of Miami, will be the research vessel used for this expedition. The Mohawk ROV, owned by the National Marine Sanctuary Foundation will operate from the ship approximately 12 hours a day, providing video and photographic surveys and collecting samples.
The primary objectives are to document benthic habitats, benthic sessile organisms, and fish populations; to conduct photo/video transects; and to collect benthic organisms for closer study with the ultimate goal of better understanding and managing some of the most ecologically significant marine habitats in the U.S. and Cuba.