March 23
As an ocean change biologist, I have spent a fair amount of time in and around the sea. My work has mainly focused on nearshore environments and the animals that live there. That said, I have never been on an oceanographic cruise, so that makes me a greenhorn I guess, or as the Alaskans say, a "cheechako." When the opportunity to participate in the NOAA Office of Ocean Exploration and Research cruise arose, I immediately jumped at the chance.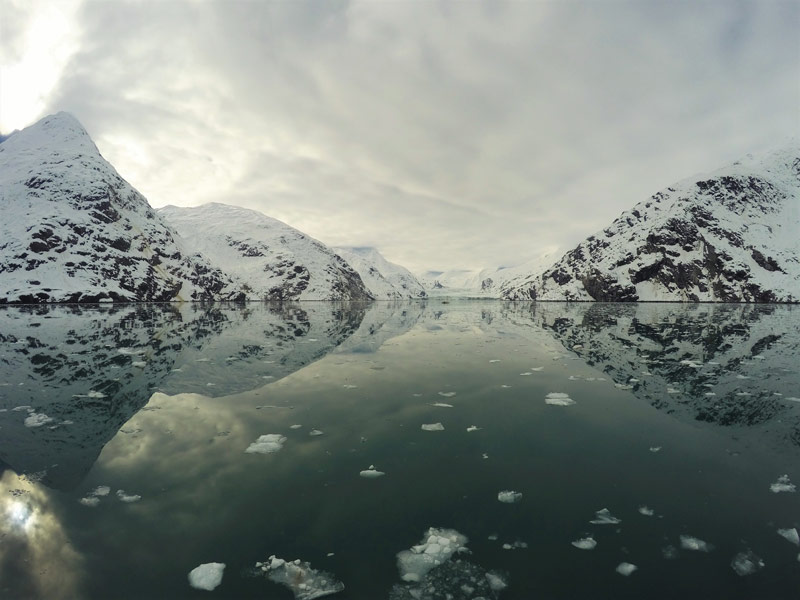 The goal of the cruise is to find Primnoa pacifica, the red tree coral in Glacier Bay National Park, using both scuba and a remotely operated vehicle (ROV). My role on this cruise is as a scientific diver, visually inspecting the undersea habitat, searching for our target species during scuba dives launched from a small boat aboard the research vessel Norseman II.
I have to admit, I am notorious for getting sea sick, like really, really sea sick. I once got sea sick just sitting on my surfboard. However, when it came to deciding whether or not to go on this cruise, none of that mattered; there was no way I was turning down this incredible opportunity.
We boarded the Norseman II in Juneau, and made our way to Glacier Bay. I was quickly enamored by the majestic beauty of Glacier Bay National Park, and I couldn't wait to get in the water!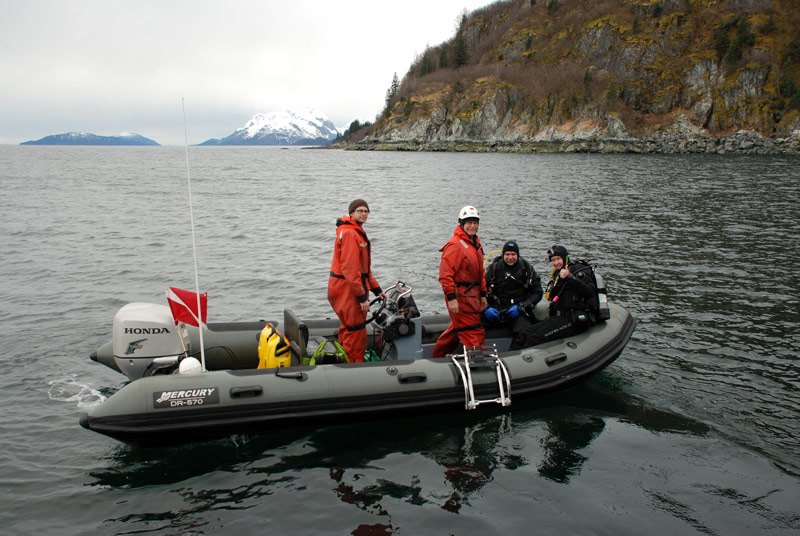 Cold water diving takes a certain kind of wing-nut, someone who isn't intimidated by the cold, the ice, or the difficulties that are certain to accompany this type of technical diving. We combat the cold by wearing dry suits, which are waterproof suits that have an opening for each hand and one for your head. Those openings are sealed with a latex cuff that is tight enough to prevent water from leaking into the suit (that's the goal anyway, we get wet more often than we'd like to).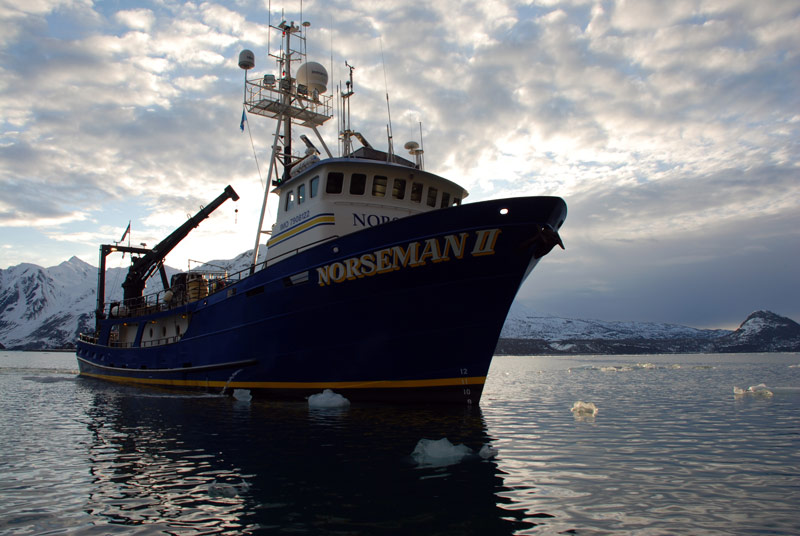 Under the dry suit we wear what is called an "undergarment," but really it is an incredibly puffy, adult-sized onesy, similar to what newborn babies wear. The dry suit and undergarment create a toasty refuge from the freezing cold water. We complete this outfit with a hood and a pair of dry gloves and we are ready to go.
Our operations run 24 hours continuously, with one crew working from 7am – 7pm (day ops), and one crew working from 7pm – 7am (night ops). The diving ops happen on the day shift with two teams of divers taking turns surveying the shallow water habitat for Primnoa pacifica. Glacier Bay is a series of fjords, carved out by receding glaciers. The sites we are investigating tend to be in areas with vertical walls that climb out of the water and can be hundreds or thousands of feet tall. To reach these vertical walls, we have to disembark the Norseman II and take an inflatable boat, we call it RHIB or Rigid Hull Inflatable Boat, to our chosen dive site. Once we arrive, we sit on the edge of the RHIB, take a deep breath, hold our masks to our faces and then gently fall backwards into the frigid water. Everyone asks me if I get cold doing this type of diving. The short answer is no, but I will admit, the moment your face hits the water, it hurts for a split second and then it goes numb.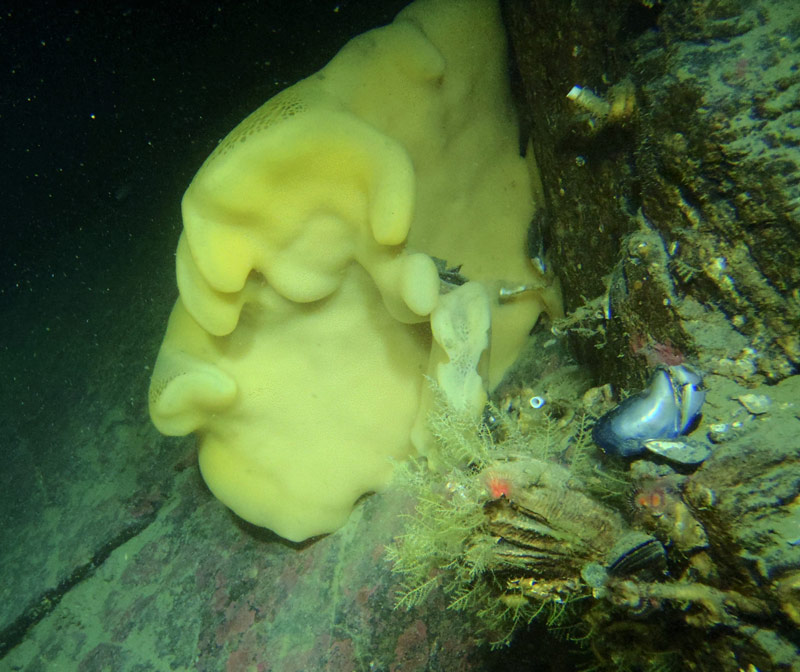 Once in the water, everything turns a cloudy green. Glacial discharge from fjords contain an unbelievable amount of silt, so everything underwater is covered with a layer of fine dust. We have to be careful not to disturb the silty bottom, one small fin kick can turn visibility from pretty good, roughly 20 feet, to 0 feet in an instant. Visibility improved as we went deeper into the water column.
While on the lookout for corals, we are also interested in identifying species new to these fjord regions. As glaciers retreat, they open up new marine habitats for colonization. Red tree corals are considered a "pioneer species," in that they are one of the first animals to establish themselves in newly available habitats. Other organisms we've encountered so far are glass sponges, sun stars, sea urchins, anemone, and nudibranchs.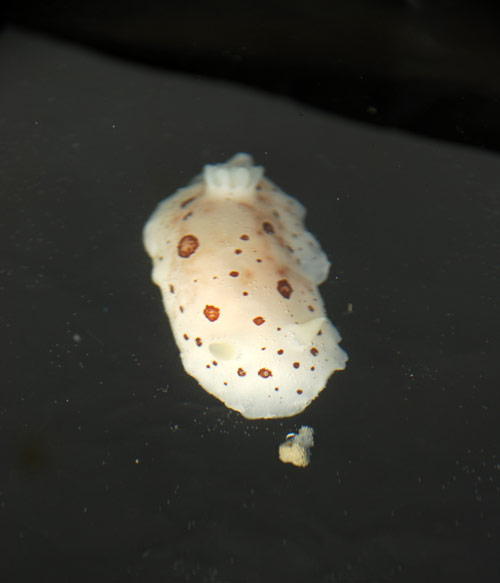 I feel so lucky to be included in such an amazing project; Glacier Bay is truly a national treasure. The work being done here will help us gain a better understanding about the animals that live here and what we need to do to make sure this place remains a resilient, thriving marine ecosystem.
One more thing, I haven't gotten sea sick yet...fjords are an ideal place for land lubbers like me to get the oceanographic cruise experience, but without the, ahem...you know what I mean.