August 27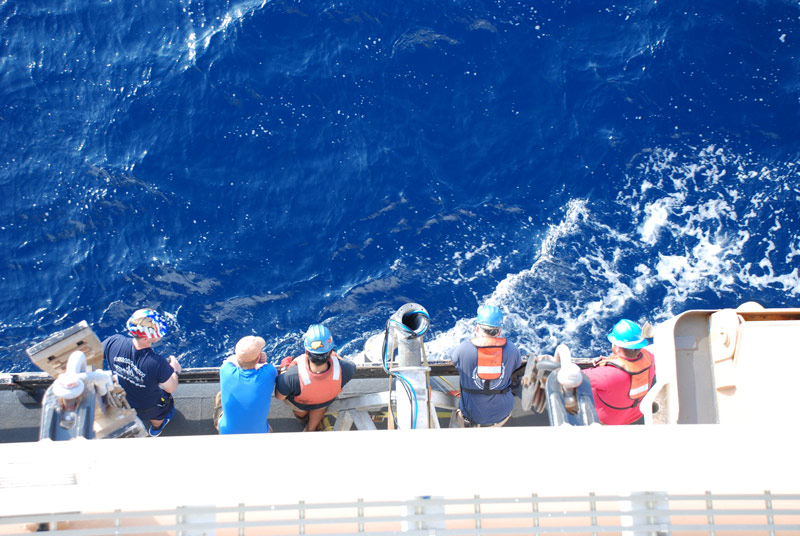 Working at sea is not without its challenges. There are known or expected challenges, such as working in remote locations; dealing with extreme weather; sampling in deep, dark environments; maintaining gear; and adapting to changing conditions. Today's challenge was conducting operations in strong currents. We are in the Gulf Stream.
The Gulf Stream is an intense, warm ocean current in the western North Atlantic Ocean. It moves north along the coast of Florida and then turns eastward off of North Carolina, flowing northeast across the Atlantic. It is the main conveyor of heat from south to north in the Atlantic Ocean.
The velocity of the current is fastest near the ocean's surface, moving at a maximum speed of approximately six miles per hour (mph). When we reached our sampling site, surface currents were running at four knots (a knot equals one nautical mile, or 1.852 kilometers per hour, or approximately 1.151 mph). Although four knots (4.6 mph) may not seem that fast, it proved to be a challenging environment in which to deploy delicate sensors over the side of the ship.
We selected Keller Canyon, off the coast of North Carolina, to be the location of our first official deployment of the autonomous underwater vehicle (AUV) Sentry. Upon arriving at the site, the AUV team and ship's crew assembled on the deck and began the pre-dive routine, which includes lowering the transceiver and preparing Sentry for deployment. The transceiver, which is attached to the end of a long pole, is an instrument that sends signals out into the water to track Sentry's movement along the seafloor (learn more about this process here).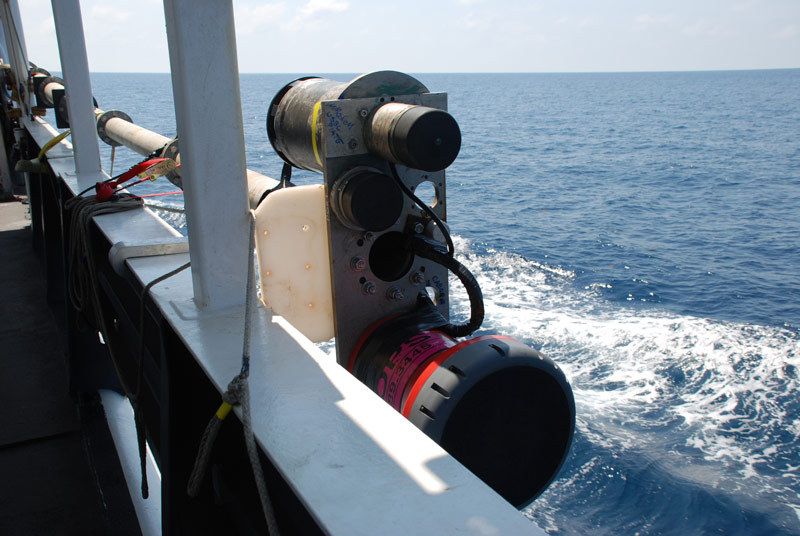 Once the transceiver was in the water, the AUV team noticed the strong ocean current alongside the ship was causing the pole to shake, causing sharp jolts to delicate and expensive equipment. After multiple unsuccessful attempts to tighten and improve the stability of the pole, the team had no choice but to bring the pole out of the water so as not to risk damaging the transceiver or the ship.
All on board are working hard to overcome the challenges of the Gulf Stream. Throughout the night, the officers are navigating the ship toward Hatteras and Pamlico canyons in search of gentler current. The AUV team has already come up with a way to strengthen the transceiver pole and improve its stability in the strong current and expect a successful deployment in the morning. The multibeam team is catching a few winks before waking up to conduct very early morning mapping operations. And of course, the science team is working hard to monitor the status of the situation and adapt sampling plans.
It's a good thing there's leftover apple pie and coffee in the mess deck.