September 8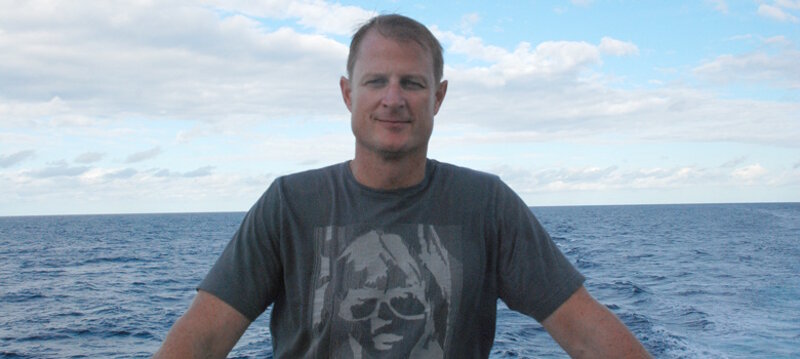 On August 24, the Battle of the Atlantic expedition welcomed Joe Mohorovic as a VIP guest onboard the R/V Baseline Explorer. Mohorovic's connection to the Battle of the Atlantic is a personal and very unusual one.
Joe's late grandmother, Desanka Mohorovicic, was onboard the cargo-passenger ship City of New York in March 1942 (the family's last name was shortened after they moved to America). She was traveling from South Africa to New York to meet her husband, a Yugoslav consular official, there. She had her four-year-old daughter, Visna, with her, and was pregnant with her son, Jesse.
Amidst high seas off the coast of North Carolina, the ship was attacked by a German U-boat. Desanka and others were moved to a life boat, but the life boat release mechanism was stuck. As a second torpedo struck the ship, the life boat got loose and plummeted into the water. Desanka broke her hip in the process.
With high waves crashing furiously, Desanka went into labor in the life boat. The ship's surgeon, Dr. Leonard Conly, who himself had two broken ribs, delivered the baby in the crowded life boat. Desanka gave birth to a healthy, eight-pound baby just hours after the merchant ship sank. The life boat drifted in the Atlantic for a day and a half until the Navy destroyer USS Jesse Roper came to their rescue. Desanka named her newborn son after the ship.
Desanka, Visna, and the newborn Jesse all went on to live long, fulfilling lives. During this expedition, Joe Mohorovic, representing his late father and grandmother as a guest on this expedition, got a firsthand experience of the maritime battlefield in the midst of which his father was born.
"It was a once-in-a-lifetime chance to get closer to a once-in-a-lifetime story," Joe says of his visit. "I expected to be overwhelmed by the idea that I was among the first people to see the terrible remnants of the conflict from which my family so narrowly escaped, and I was. More than that, however, I was overwhelmed by the skill and the unmistakable passion with which the scientists and pioneers aboard the Baseline Explorer dove into their work."