September 6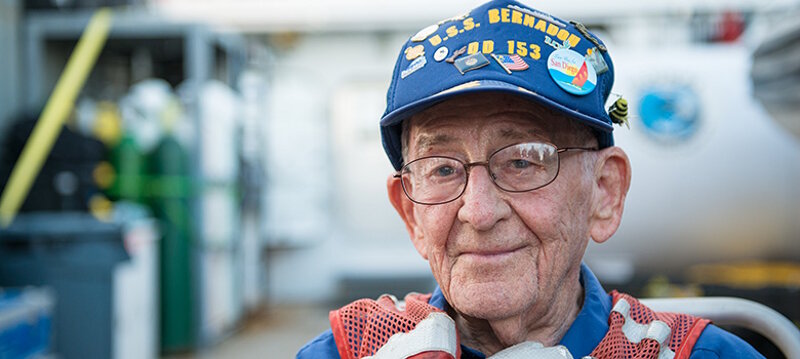 World War II (WWII) veteran Louis Segal, at the tender age of 93, is undeterred as he makes the precarious step from the small transport boat onto the R/V Baseline Explorer. Everyone on the expedition team claps and cheers, and Segal has a big grin on his face.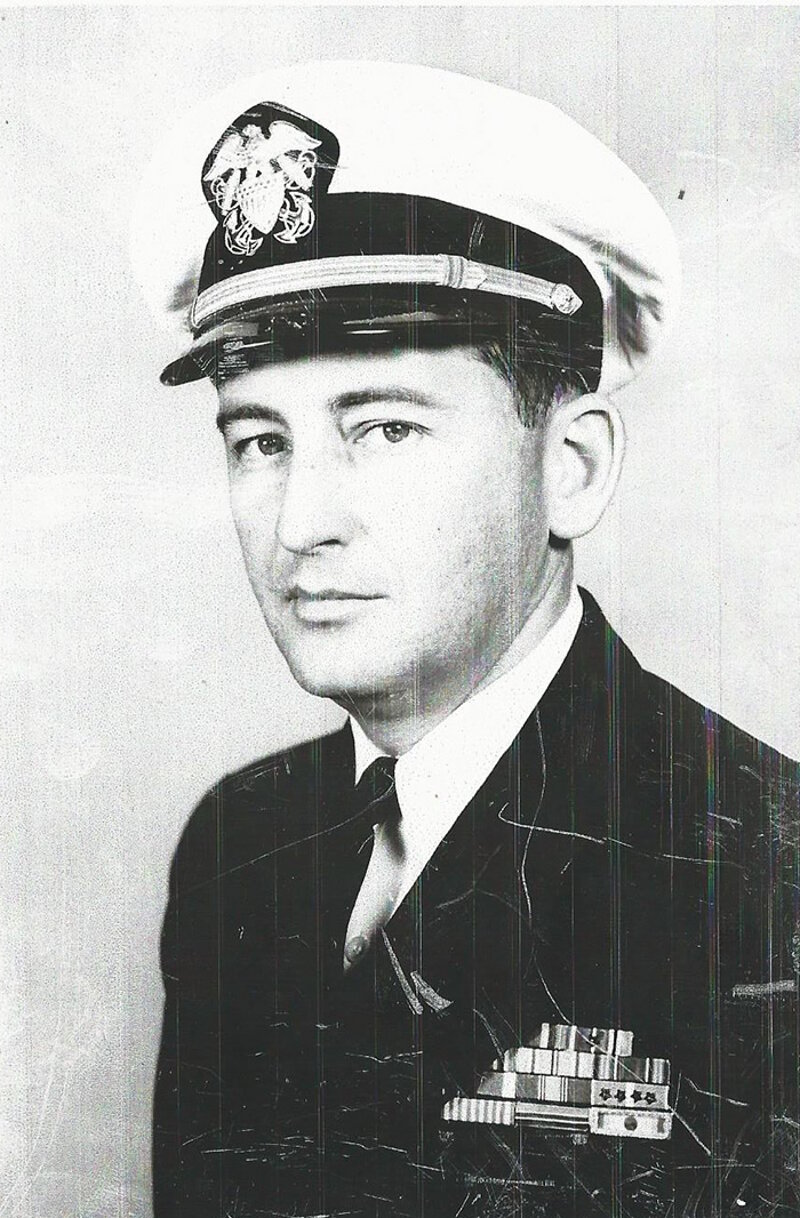 On August 26, Segal joined the Battle of the Atlantic expedition as a special guest, to add a real-life and personal perspective to the ongoing archaeological exploration. Segal is a lively man with bright blue eyes and a fervent taste for adventure. "I am Forrest Gump," Segal says of himself. Sure enough, with an astonishing memory, he recalls dates and names from more than half a century ago, and exploration project members enjoyed hearing Segal tell the many tales of a life filled with extraordinary experiences. Where to begin his adventurous life story?
Segal's thirst for adventure made him want to join the Navy and its war efforts. "I wanted to travel the world, and I had a very romantic notion of being in the Navy based on movies," Segal says. But when he applied, the Navy turned him down because he was too skinny. Instead, he went to work at Kraft Manufacturing for $8 a week. Eighteen months later, he had worked his way up to making $16 a week and had succeeded in putting on some weight.
At age 18, in September 1942, he applied at the United States Merchant Marine Academy, and just to make sure, he ate five bananas right before going through the physical exam, which he passed. He found himself onboard a ship soon thereafter as a cadet midshipman, and he was excited to celebrate his 19th birthday in London, England. "Life at sea was everything I had hoped it would be," Segal muses. During his time at the academy, he sailed on two merchant vessels before graduating in April 1944.
Segal admits to being scared in the beginning as he saw ships sink in battle; German submarines were a formidable force to reckon with. "But you get used to the fear, and I never thought my ship would go down," he says. "We knocked down several German aircraft, which the Germans never admitted to," he adds proudly.
After graduation from the academy, Segal did not want to sail on commercial vessels; his taste for adventure still drew him to the Navy. He received special permission to join the Navy and was commissioned as an Ensign. During his 12 years of service in the Navy, Segal served on five destroyers and two aircraft carriers through the end of WWII and the Korean War. He retired from the Navy in 1956.
"We were escorting and protecting convoys from German U-boats. And we were searching for submarines with sonar, and found some once or twice and dropped depth charges on them," he recalls. On one occasion, his ship was attacked by Germans while he was in the engine room; he was exactly where he wanted to be: in the middle of the battle.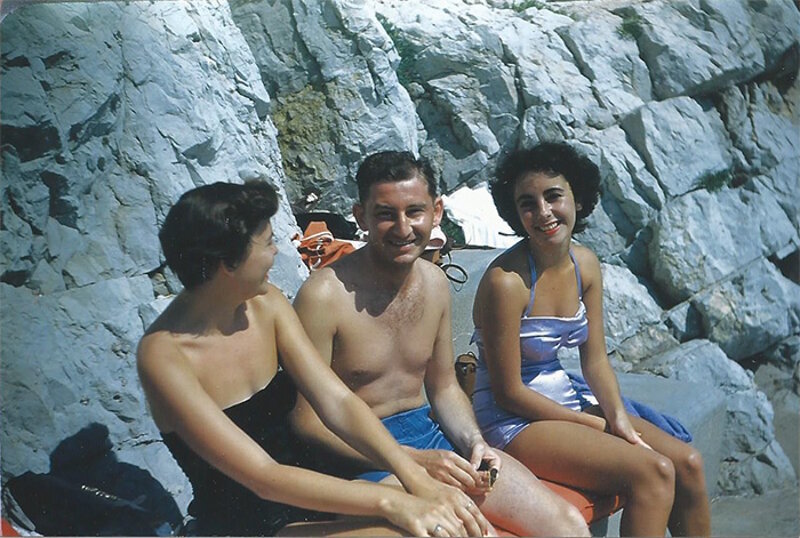 After the war, his Navy career brought different kinds of adventures. During his time in the Riviera, his commander asked Segal to join him in Paris because he spoke French. Together they visited a Parisian nightclub where Segal danced all night. Afterwards, the nightclub's manager offered him $75/week to be a dance partner at the nightclub. "I am an excellent dancer," Segal says of himself. "My older sister taught me when she was 12 because she wanted to dance." On another visit in France, actress Merle Oberon introduced Segal to an 18-year-old Elizabeth Taylor who was visiting Cannes with her first husband. "Her purple eyes matched her bathing suit. She was very beautiful," Segal recalls of his long-time friend.
Born in 1923 in New Jersey to Romanian immigrants, Segal got to fulfill his dream of lifelong travel. "I have been to 120 countries," he says. His career in the Navy brought him to Spain, France, Greece, Lebanon, Crete, Libya, Panama, and Korea, among others, but he explored many more countries on his travels with his late wife. "My wife wanted to marry a Naval officer so she would get to travel," Segal recalls. He married Margaret Hayes, a second grade teacher, in 1955, and they were married for 59 years until she passed away two years ago in 2014. "She paid $27 to meet me," he jokes, "as that was the entry fee to the officers' club in San Diego where we met. Her friends told her to mingle, but she only wanted to talk to me. After our second date I knew I would marry her, though I never properly proposed to her. One day she said, 'You know, we both have blue eyes so our children will be blue-eyes too,' and I asked, 'so you'll marry me then?'" Segal chuckles when asked if his children did in fact have blue eyes and says one of them did.
After leaving the Navy, Segal got his MBA at Stanford, then worked at Hughes Aircraft for 23 years, where he worked on programs involving submarines, radars, missiles, and even a spacecraft headed for Venus. Segal retired in 1987 when he got ill for the first time in his life. He has two sons and four grandchildren, and he stresses how proud he is of all of them. He still lives in San Diego, where one of his sons lives with him. These days, he spends his time going to the theatre, playing bridge, and attending Stanford Alumni meetings. "The Lord was very good to me. He never closed a door on me but always opened a better one," he says of his life.
The Battle of the Atlantic expedition team much enjoyed meeting such a charismatic World War II veteran, and we felt honored that he made the trip all the way from San Diego to share his first-hand combat experience to lend a historic, yet personal, perspective to the battle. And did Segal enjoy his visit on the boat? "Of course," he says, "It's another adventure!"