Associated Technology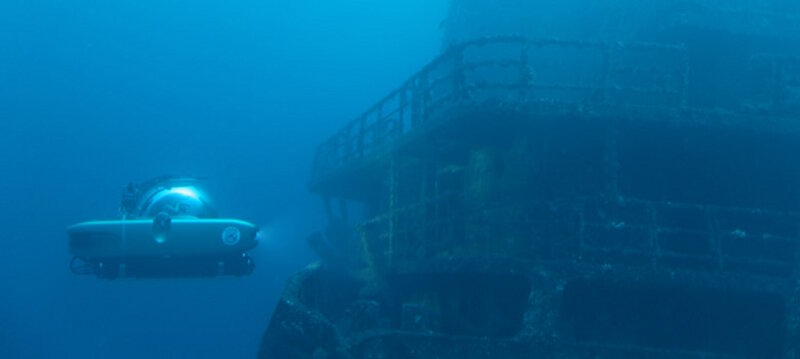 GlobalSubDive (GSD) is a U.S. company started in 2013 with a primary mission of supporting and promoting the Florida-based diving agency Global Underwater Explorers (GUE) and its central conservation initiative, Project Baseline. GSD compiles funding from numerous private sources to establish and maintain a state-of-the art underwater exploration and research platform, the R/V Baseline Explorer.
The R/V Baseline Explorer is 45 meters long and travels at a maximum speed of 11 knots, or 12.5 miles per hour. She operates primarily in the Atlantic Ocean and its bordering seas. The ship's crew transports, deploys, and recovers submersible and scuba dive teams in nearshore and remote marine environments. Baseline Explorer has sleeping quarters, or berths, for up to 24 people and a fully stocked galley that makes exploratory missions in remote locations for extended periods possible.
Commissioned in 2013, Baseline Explorer features a Dynamic Positioning System that allows the ship to hold station over a specific target without dropping anchor, preventing the possibility of damaging fragile ecosystems being explored by teams below.
Baseline Explorer is equipped with a knuckle boom and A-frame cranes for steady submersible launch/retrieval. The cranes also enable a fully customizable configuration of deck components used to support onboard divers, researchers and media teams.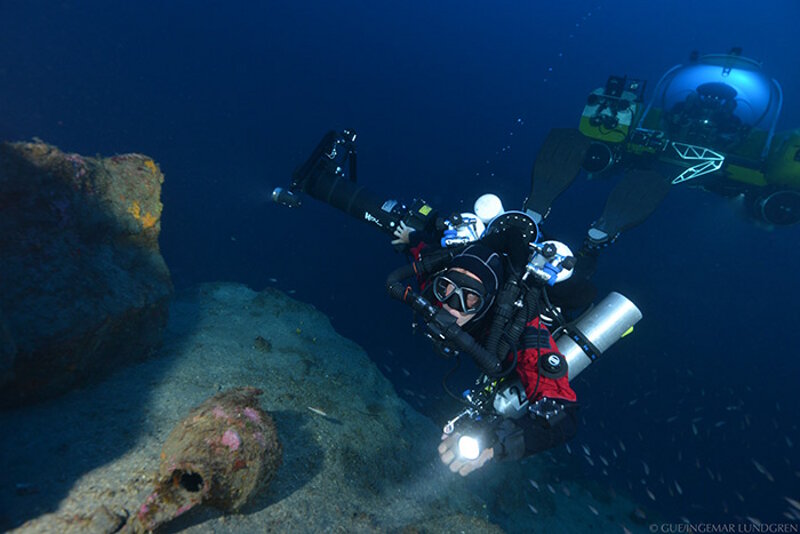 There are two two-person 305-meter observation submersibles on board, Nomad and Nemo. The submersibles, measuring a compact three meters long, 2.5 meters wide and 1.8 meters high, are designed and built by Triton Submersibles. Both submersibles house one pilot and one guest, allowing access to underwater environments for up to 10 hours with an additional 96 hours of reserve oxygen supply.
Guests are often scientists, media personnel, or special celebrities. Many guests are exposed to shallow and deepwater environments for the first time in their lives, leaving a lasting impression long after the dive is complete.
The submersibles are agile, moving autonomously up and down the water column and traveling up to three knots, or 3.5 miles per hour, laterally. Their customizable equipment tracks allows marine researchers access to a range of sampling, measurement, and analysis options, including a manipulator arm and sample retrieval basket.
Media personnel and special guests are treated to a unique view of the underwater world through Triton's full acrylic spheres allowing for 360-degree observations. The submersibles are also outfitted with LED external lights and visual transect and documentation high definition and stereoscopic cameras. When deployed, the path of the submersibles is tracked using transponder technology.
In 2009, GUE began a global conservation effort called Project Baseline, inviting divers and water lovers alike to document freshwater and marine environments while supporting work with other scientific and conservation organizations. Project Baseline is growing steadily, with over 70 projects in 27 countries.
GUE certified divers from countries all over the world gather to volunteer as members of Baseline Explorer missions. Once operations are underway, divers are deployed from Baseline Explorer or from one of four dedicated, more maneuverable boats called tenders. Divers then achieve mission objectives, often dictated by collaborating partners, at depths up to 120 meters, operating independently of, or in tandem with, the submersibles.
The ship provides divers with access to a compliment of diving resources including specialized breathing gases such as oxygen, nitrogen and helium and a hyperbaric chamber.
GUE is a US 501(c)(3) non-profit organization dedicated to the exploration and conservation of the underwater world. Since 1996, GUE has trained more than 20,000 divers around the world.
To date, Baseline Explorer has conducted hundreds of successful mission-oriented submersible and scuba dives throughout the Atlantic Ocean and Mediterranean Sea, enabling collaborative entities access to underwater environments that are often out of reach. Mission updates and discoveries are shared widely across popular social media platforms and through coverage by reputable news outlets.