July 6
The Role of the ROV
What is a remotely operated vehicle (ROV) and how does it contribute to Arctic exploration?
The quick answer is that Oceaneering's Global Explorer ROV is a precision tool used to collect data and physical samples far beyond where humans can reach on their own. A more fanciful answer is that the ROV is like Ms. Frizzle's Magic School Bus, transporting scientists on adventures to remote—and yet real—locations populated by strange and wonderful life forms.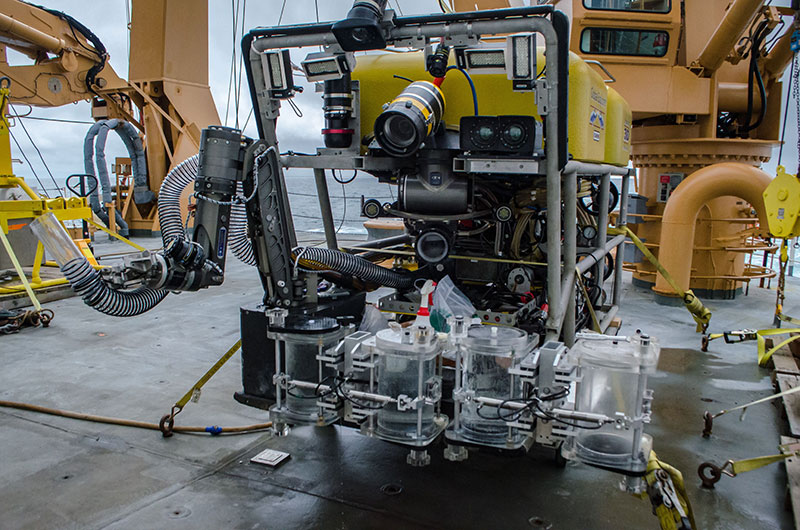 In 2005, for example, scientists used the Global Explorer to capture images of finned octopods—sometimes called "Dumbos" because their large, flapping fins make them resemble flying cartoon elephants—in the Canada basin of the Arctic. Even better, the ROV was able to collect a fragile octopus from ocean columns at a depth of 2,450 meters (1.5 miles) and bring it on board for future study. The pursuit of "Oliver" was an adventure for everyone on the ship as they watched live on video monitors.
Operating the ROV takes the entire team of specialists on the vessel—from the crew members to the individual scientists—each performing a function to allow us to reach into the ocean to see, discover, collect, and evaluate what otherwise would not be visible. What we learn contributes to knowledge of what makes ocean ecosystems function, how organisms interact with one another, and the role oceans play in the Earth's overall environment.
Three Parts Make a Whole
There are three major components to the Global Explorer ROV:
The vehicle
The control van
The tether/umbilical
The vehicle is where the action occurs deep in the ocean. It carries the eyes, arms, and physical sampling tools to areas of interest, propelled by thrusters that maneuver it into position.
The control van is on the surface. This is where man interfaces with machine. ROV operators pilot the ROV, using joysticks and monitors to maneuver the ROV into locations selected by scientists. The van also contains the controls for collection devices, data recorders, and video monitors.
The tether/umbilical, while seemingly not so glamorous, is the vital power and data connection between the control van and the vehicle. The tether is, in some ways, as delicate as some fragile sea creatures. When it develops a kink or a knot, valuable research time can be lost—which sometimes leads to inventive problem solving to minimize down time!
A Special ROV
ROVs are commonly used throughout the world, in oil fields and deep-sea salvage and repair operations. What makes the Global Explorer ROV special is, in part, its capability to withstand the freezing temperatures and tremendous pressure of ocean depths of 3,000 meters (almost 2 miles). Its unusually long tether is also specially modified and extensively tested to operate under those conditions.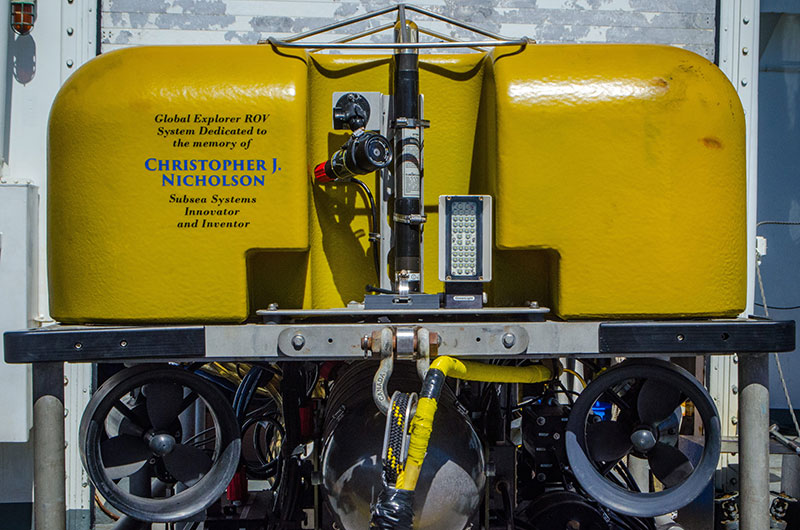 In addition, ultra-specialized equipment makes this ROV valuable for scientific exploration. It is outfitted with a camera suite consisting of an ultra-high-definition 4K zoom camera, a 3D camera, and an assortment other cameras. A customized carousel of a dozen canisters attached to a suction hose and four large 2-lidded jars called Detritus-samplers allow for collection of up to 16 individual specimens.
The weight of the ROV with its suite of scientific equipment is over 1.5 tons; however, it is as light as a feather, or neutrally buoyant, in water. The system was built by Deep Sea Systems International, a subsidiary of Oceaneering International.
Many of the Global Explorer's instruments and systems, and the vehicle itself, would not have come to fruition without the dedication and commitment of Chris Nicholson, to whom a special memorial inscription has been applied to the ROV.
To sum it up, the ROV is a tool that allows us to penetrate the ocean depths to expand our knowledge of under-explored segments of the environment. As Ms. Frizzle's students learned, the best scientific "field trips" are full of adventure and surprise.