August 4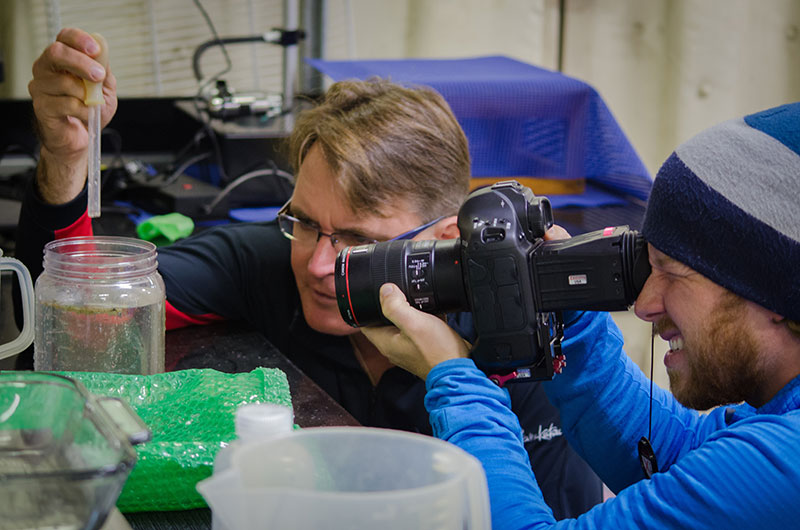 Science and ocean exploration are based on discovery, mystery, and adventure. Filmmaking is grounded on the same attributes. Part of the mission of The Hidden Ocean 2016: Chukchi Borderlands mission is to share scientific discoveries with the public through outreach. Two media teams were invited on this expedition to fulfill that mission and bring the Arctic to audiences around the world.
Michele Hoffman Trotter and Michael Caplan are co-directors for an upcoming documentary called Microcosm. They are both faculty at Columbia College Chicago where Hoffman Trotter teaches various courses on ocean science and policy and Caplan teaches courses in filmmaking and production. Mathew Broughton is the third member of this team as a cinematographer. Michael Aw and Stuart Ireland hail from Australia where they work for Ocean Geographic, a non-profit magazine. They both have extensive experience producing ocean-based documentaries and filming in both the Arctic and Antarctic.
The Microcosm team is particularly interested in the microscopic life of the oceans, especially zooplankton. They expect to create a feature-length documentary examining these hidden, but highly influential components of the world's oceans. The Chukchi Sea is just one of multiple regions the Microcosm team will be visiting to explore the many ways in which the small things in the ocean have major impacts on both marine and human ecosystems.
Zooming out, Aw and Ireland are taking a macroscopic approach, focusing on some of the more charismatic creatures we've encountered on this expedition: the Dumbo octopus and polar bears. In their medium-length documentary (working title: Chukchi), they will be creating vivid imagery of the Chukchi environment in an effort to capture a system on the precipice of change.
It has been interesting to observe these two media teams at work. Both have been working very long hours, filming our operations from the ship, the sea, the ice, and even the sky (via drone). Aw and Ireland are aiming for a general audience to whom they can introduce an under-explored region of the world.
The Microcosm team is also creating for a general audience, with the additional aspect of an educational component to make the science of this expedition more accessible to students and teachers. As Hoffman says, they are trying to create 'not just a movie, but a movement.'
While their styles and audiences might be quite different, both media teams hope their products help connect the public with the wonders and beauty of the Arctic ecosystem. Hopefully, these mission logs have performed a similar purpose during these last few weeks. Sharing the science and discoveries of this expedition with each other and with our readers has made this voyage unforgettable.