August 10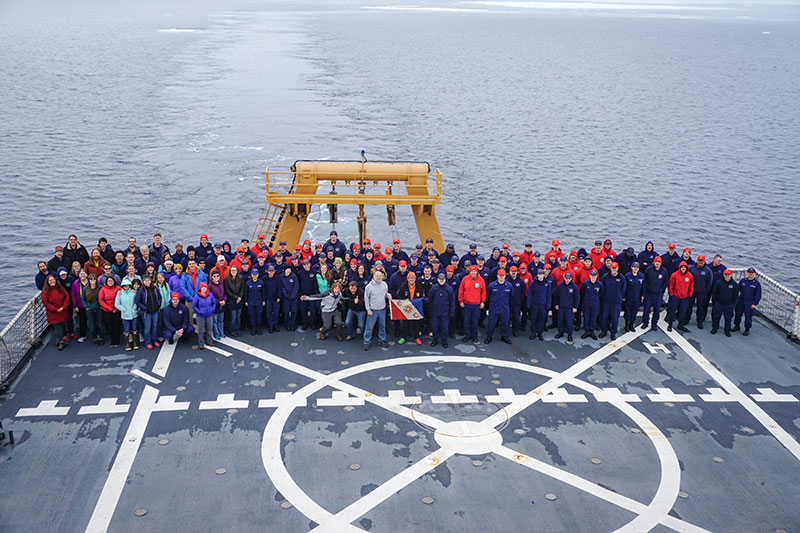 We are less than 10 hours out from the railway dock in Seward, Alaska, where the U.S. Coast Guard Cutter Healy will tie up. All the equipment is packed, the labs have been thoroughly cleaned, staterooms are tidied, and bags are packed. Team leads are still hustling to backup data and prepare cruise reports on their laptops. We have had our final science meeting, summarizing the many successes of the cruise. It is all over except for a long frantic day of offloading the ship and, for some, starting travels home.
The absence of motion and the quietness of no ship noises will require several days to adjust to. Some people are dreaming of fresh vegetables, some of walking (or running) on land, many of sharing a drink at one of Seward's pubs, and most of us of seeing the families or loved ones that let us leave them for the past six weeks to experience this adventure.
Together we have traveled over 4,000 nautical miles, and it will seem strange not to see the same faces every day, even if they were tired ones. There are talented scientists, a small army of enthusiastic students, and a skilled remotely operated vehicle team here, but we have been successful largely because we worked as a team. We have handled our setbacks with a healthy sense of humor and kept pushing forward, undaunted, toward our goals.
We now have a much better overview of the complexity that is the Chukchi Borderlands, with its high ridges, deep valleys, plateaus, and scattering of pockmarks. We have surveyed communities, collected new species, and gathered information on how they live and interact in this remote ecosystem. We have a detailed snapshot of how the Borderlands is now, to compare against the future. Our observations have stimulated many new questions yet to be addressed – such is the nature of true exploration.
Of equal importance, we have documented our observations through robotic eyes and the lens of media cameras so that this experience can be shared with everyone. Few will ever be able to go where we have gone. We hope that, in some way, what we have shared with you will simulate your curiosity and ignite the explorer lurking within each of you.