September 12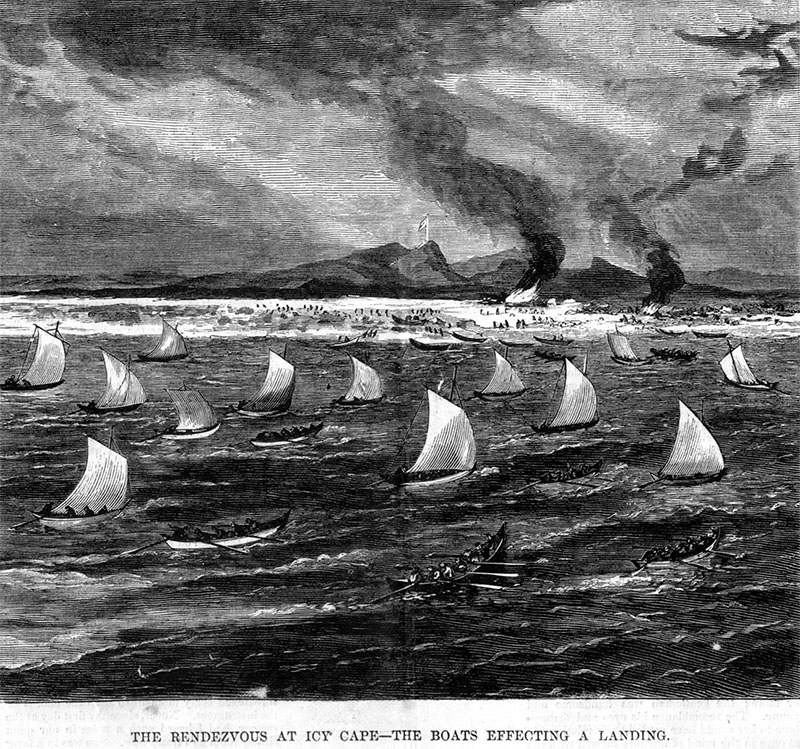 On this date, 144 years ago, a momentous and unprecedented decision was being made.  The captains of the 33 whaling ships caught in the ice had convened aboard the Champion to consider their options for saving the 1,219 officers, crew, and in some cases, families, from their fate. 
It was becoming clear that their situation was dire, and all their heroic efforts to keep the ships afloat and whole were almost certainly not going to be successful. That these ships and their valuable cargo would be lost was now a foregone conclusion. They had only dwindling provisions, the ice was not retreating, and the storms were worsening. 
However, there was some small glimmer of hope for rescue in the seven ships of the fleet standing by about 80 miles to the south in open water off Icy Cape, they themselves threatened by the increasingly bad weather and building seas. To reach these ships, a perilous and difficult journey would be required of these exhausted and frightened whalemen in their small and unprotected whaleboats. 
What follows is the statement written by the captains and signed the following day before abandoning their ships.
Point Belcher, Arctic Ocean, Sept. 12, 1871.

"Know all men by these presents, that we, the undersigned, masters of whale-ships now lying at Point Belcher, after holding a meeting concerning our dreadful situation, have all come to the conclusion that our ships cannot be got out this year, and there being no harbor that we can get our vessels into, and not having provisions enough to feed our crews to exceed three months, and being in a barren country, where there is neither food nor fuel to be obtained, we feel ourselves under the painful necessity of abandoning our vessels, and trying to work our way south with our boats, and, if possible, get on board of ships that are south of the ice. We think it would not be prudent to leave a single soul to look after our vessels, as the first westerly gale will crowd the ice ashore, and either crush the ships or drive them high upon the beach. Three of the fleet have already been crushed, and two are now lying hove out, which have been crushed by the ice, and are leaking badly. We have now five wrecked crews distributed among us. We have barely room to swing at anchor between the pack of ice and the beach, and we are lying in three fathoms of water. Should we be cast on the beach it would be at least eleven months before we could look for assistance, and in all probability nine out of ten would die of starvation or scurvy before the opening of spring."

"Therefore, we have arrived at these conclusions: After the return of our expedition under command of Capt. D. R. Frazer, of the Florida, he having with whale-boats worked to the southward as far as Blossom Shoals, and found that the ice pressed ashore the entire distance from our position to the shoals, leaving in several places only sufficient water for our boats to pass through, and this liable at any moment to be frozen over during the twenty-four hours, which would cut off our retreat, even by the boats, as Captain Frazer had to work through a considerable quantity of young ice during his expedition, which cut up his boats badly."
As what has been often described as a funereal procession, nearly 200 whaleboats set out for the south, no one certain they could make this difficult passage, but knowing they would not survive the harsh Arctic winter if they did not make the attempt. Each hard-won mile through the ice, fog, and stormy seas brought them closer to the awaiting ships, but not without tireless effort and skilled seamanship. The frigid sea crashing over the gunnels of these small but stout boats soaked both the passengers and the few provisions they were able to save, taking away any possibility of turning back or landing ashore.
Miraculously, all 1,219 men, women, and children survived and were accommodated aboard the rescue ships, who had to cast their valuable cargoes of whale oil and bone overboard to make room for the survivors. The captains' unanimous decision to make this attempt was not an easy one to make. As they describe in their statement, they had little choice in the matter...the ice having seriously damaged their ships, nearby land not offering a sufficient refuge, and only a slim chance of rescue in the ships standing by to the south. The Arctic is no place for the timid.