January 14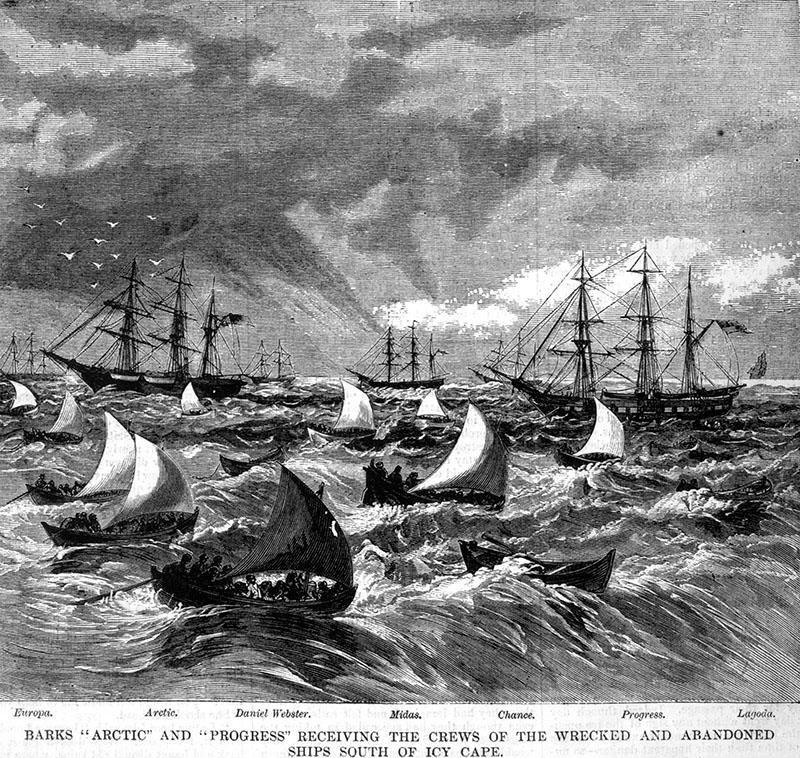 Sprinting ahead of a forecast storm in the Chukchi, the R/V UKPIK returned to Prudhoe Bay on the 25th of August, observing the leading edge of sea ice in the Beaufort Sea beginning to approach earlier than expected this season. After the nearly ton of mission equipment had been packed for shipment back to the Lower 48, and a good night's rest, relieved at having beaten the storm and now safely back in port, the mission team was able to assess what had been achieved.
More than 44 square kilometers of the seabed had been mapped, achieving the goal of providing a detailed and comprehensive survey of this historically significant area. Remarkably, after 144 years of being subjected to ice and storms, three pieces of wreckage, likely from two different whaling ships, had been located, mapped, and visually inspected with the drop camera system, and a number of artifacts had been discovered at those wreck sites. The magnetometry data collected suggested there were a number of locations within the survey area where additional wreckage may be buried in the seabed, but additional analysis of that data will need to be conducted to assess and further evaluate this preliminary finding.
Having acquired documented evidence of the presence of wreckage on the seabed and the potential for additional buried wreck sites, we now have proof that there is something worthy of preserving in this remote and previously unexplored place, and we look forward to sharing this information with the State of Alaska to help them accomplish this important work. The Mission Team was generally pleased with the outcome of the survey, having endured a good deal of bad weather and rough seas and successfully overcome unanticipated equipment failures, confirming that the Arctic does not give up its secrets easily.
We went to the Arctic to write the final chapter of this compelling story of American whaling heritage, and believe we have assembled the information to complete this task. More than 50 whaling ships were lost in this area in the last half of the 19th Century, with many stories of loss, heroism, and survival as the legacy of this historically significant whaling landscape.
The entire Mission Team expressed their deep gratitude at having had the opportunity to come to this place and contribute to expanding our knowledge of this landscape so important in the story of Yankee whaling, to have sailed in the waters and visited the places where these whaling ships met their end, and to experience the Arctic as they once did.
Learn more about expedition findings:
Remains of lost 1800s whaling fleet discovered off Alaska's Arctic coast
National Marine Sanctuaries: In Search of the Lost Whaling Fleets