July 23

Some things in life are easy, like scarfing down a bag of chips. Some things start out hard and then become second nature, like driving a car. But some things are genuinely hard, all the time. Hitting a fastball, parenting a child, and – as it turns out – driving a submarine.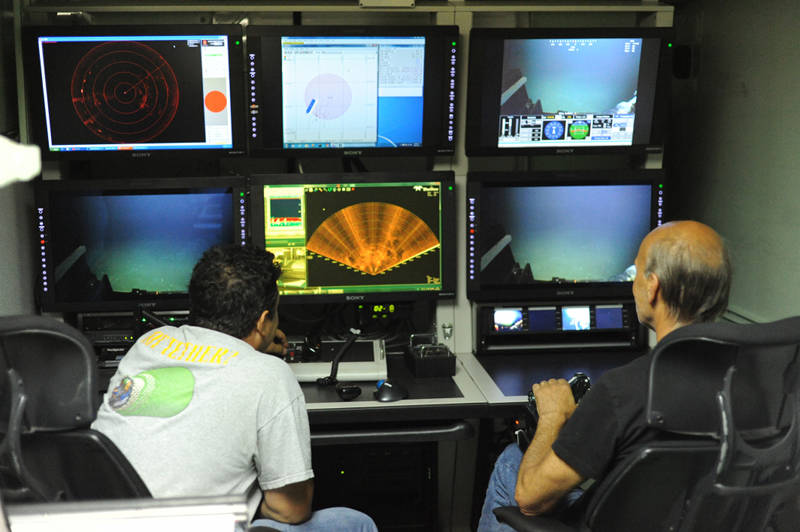 For the past week, I've been watching Jamie and Tony, our two pilots, 'fly' their robotic deep-sea vehicle for about eight hours each day. It is not easy. First of all, they are not actually inside it. Instead, they control their 'ROV' (remotely operated vehicle) via a mile-long steel cable that goes from the sub itself to what looks like the back half of a U-Haul truck that is bolted to the deck of the ship. Jamie and Tony sit on two fairly comfy chairs in front of six television monitors that show different views from sub, including SONAR and navigation maps (Figure 1).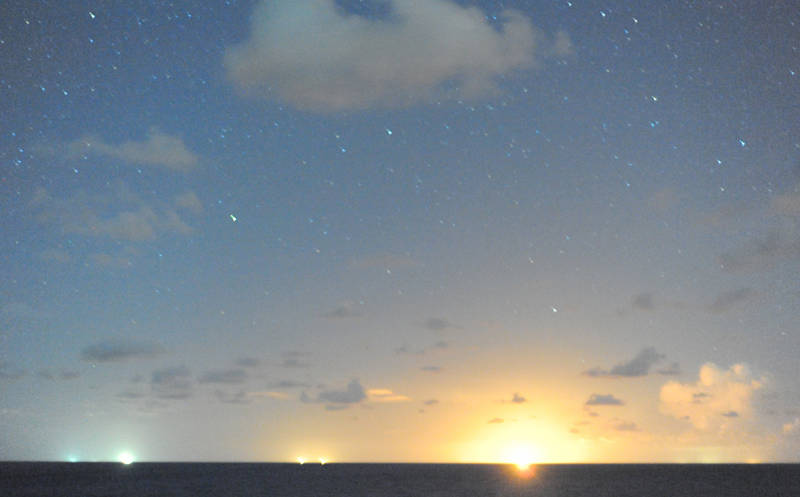 Jamie has a joystick that controls the sub via two propellers, and Tony controls the robotic arm using a miniature replica of the arm that he manipulates like a sculpture. Behind them sit five eager scientists, each pushing for Jamie and Tony to turn the sub in a different direction, to take a different photograph, or to pick up a different animal. We, as scientists are naturally interested in different parts of the project and in different animals, but there's only one ROV.
Personally, I dislike having even one person talking behind me for a minute. How Tony and Jamie manage to have five of us chattering back there for eight hours a day without completely losing it is beyond me.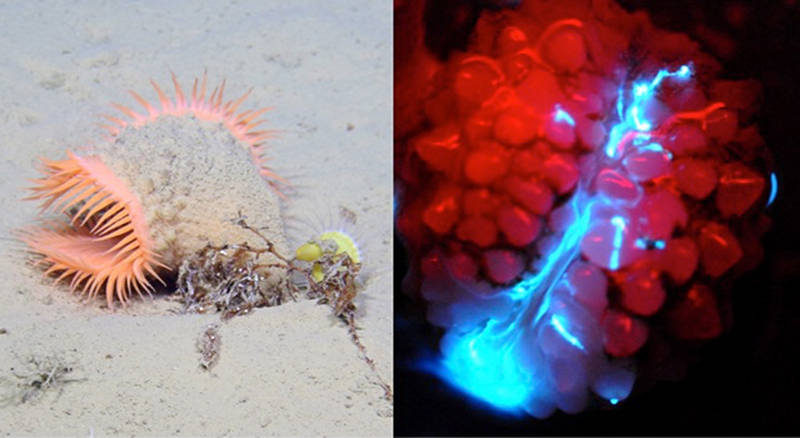 Several things make this all even worse. First of all, the ROV is attached to the ship, which itself can be blown about by waves and wind. So it's not uncommon for the ROV to arrive at a perfect site for photography and collections, only to be pulled backwards in a cloud of mud, like a small dog being pulled backwards on a leash.
This leads to problem two, which is the mud itself. The ocean floor is not like normal ground. It doesn't have rivers to carry away dirt, and it doesn't have tree roots to hold it in place. Instead, the debris from the thousands of feet of ocean above that has fallen for uncounted years simply accumulates in the deep piles of soft gray powder. Imagine not dusting your bookshelf for ten million years. So, every time the sub moves, every time it turns, and every time it stops, a cloud of this ooze is kicked up. Depending on the currents, it can take anywhere from five to 20 minutes to clear – leaving us to fill the time with discussions of critical matters like 'why are so few state capitals the largest city in the state?'.
Finally, there is the darkness itself. The ROV is equipped with two banks of white LED lights, but even these can only show us things that are at most 40 feet away. The water swallows up light like a hole, so we wander around this enormous habitat never having any clear idea of where we are. GPS doesn't work underwater and the SONAR analog of it can only give us a rough idea, so it's much like hiking on a moonless night with a flashlight, except that the sun never rises and we never get to see the lay of the land. We go up and down hills, find strange little outcroppings, and see shapes in the distance, but how it all fits together is a mystery to us. It can be claustrophobic at times, and again I wonder how Jamie and Tony can do this day after day.