The Hunt for Benthic Landers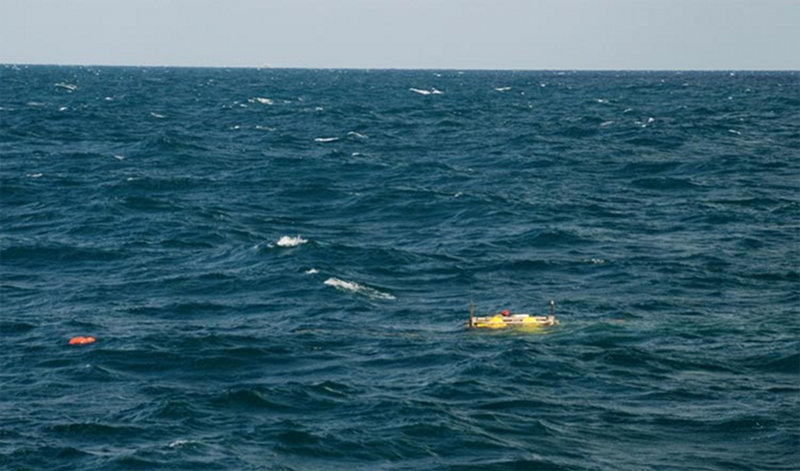 It is always traumatic to deploy very expensive science gear into the marine environment. Fishermen, members of the military, or anyone who uses the ocean can sometimes lose gear. For us, this risk is perhaps even more troublesome because in addition to perhaps loosing equipment worth many thousands of dollars, we also lose invaluable data and experiments. But, if we do not take these risks, we will learn nothing and the quest for knowledge that will help us understand and manage our ecosystems is of vital importance.
Benthic Landers and Moorings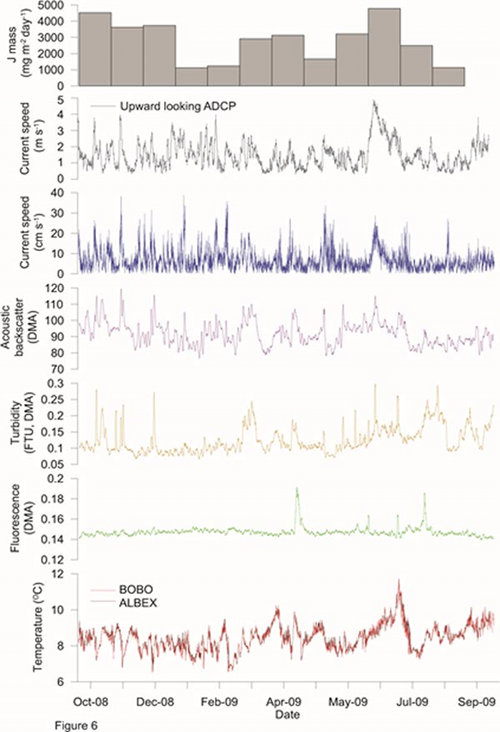 Benthic landers and moorings are widely used and are valuable for collecting data that are otherwise unavailable. They can accommodate biological experiments and a variety of instruments, gathering unique, intense data streams. Two benthic landers provided by our Dutch colleagues at NIOZ, two provided by the University of North Carolina-Wilmington (UNCW), and two moorings provided by the U.S. Geological Survey, have now been down in Baltimore and Norfolk canyons for over eight months.
All of this equipment is scheduled to be recovered during a short cruise in August 2013. However, on this May cruise we intend to recover the two UNCW landers, recover coral growth experiments, download the data, and then redeploy them until the August pick-up. This is a simple process as long as everything works!
Lander Recovery
Soon after each lander hits the bottom during last year's cruise, we moved the ship to three locations around the lander to triangulate its position (see map) by getting range data from signals to its acoustic releases. This gave us an approximate position of the lander on the bottom.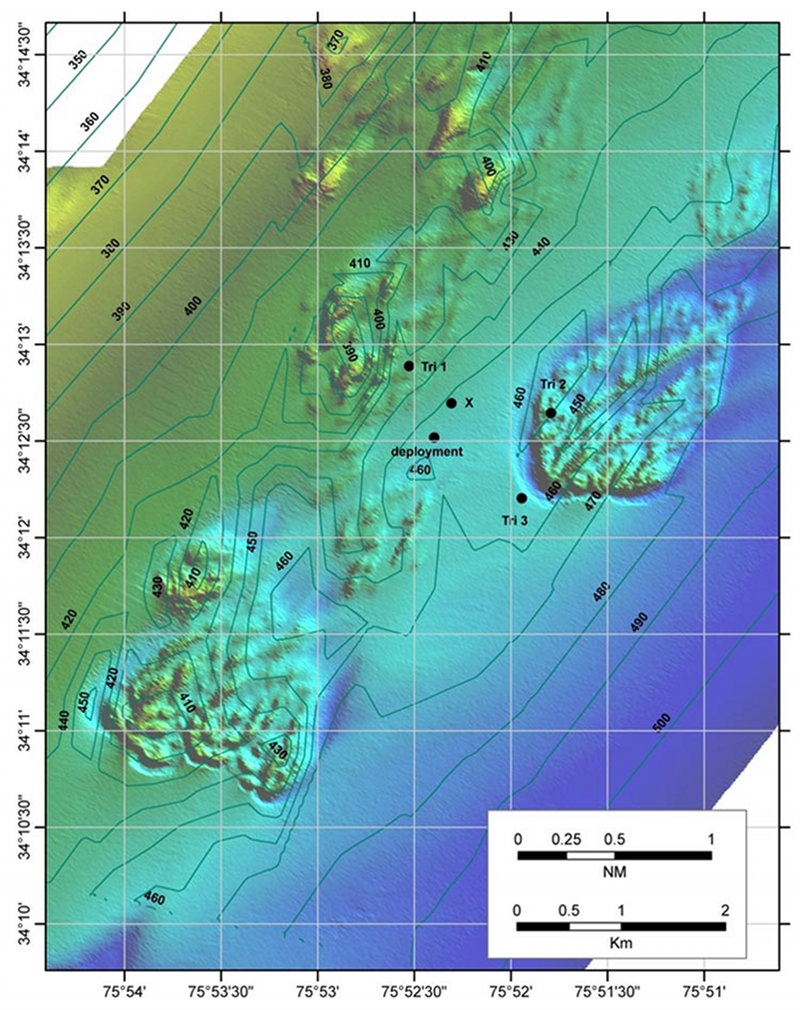 When we return to recover the lander, we hover over its calculated position and signal its acoustic releases again. When communication is established, we tell the release to drop the 600-pound weight that anchors the lander to the seafloor. By constantly pinging the lander for its range, we can tell if it is rising off the bottom. Sometimes a release may fail, and for that reason, all of our landers have a back-up release which can be used to drop the weight.
If the lander is rising, we have everyone on the ship stand by to scan the ocean in all directions. We ask the ship stay as close to the site as possible, but obviously we must move away a short distance to prevent the lander from hitting the bottom of the ship. We never know exactly where the lander will surface, since our ranging equipment is less accurate when the lander is near the surface.
There is a red flag on the lander that will help us spot the lander (but sometimes these flags are lost), as do the yellow floats and a trailing float line (see picture of lander on the surface). Although we try to bring landers up in the daylight when visibility is best, our landers have pressure and light activated strobes and a radio direction beacon to assist locating them. Even with these aids, rough seas can really interfere with finding a lander, so some landers have Iridium or other satellite transmitters which can send a message, including its location, to an owner.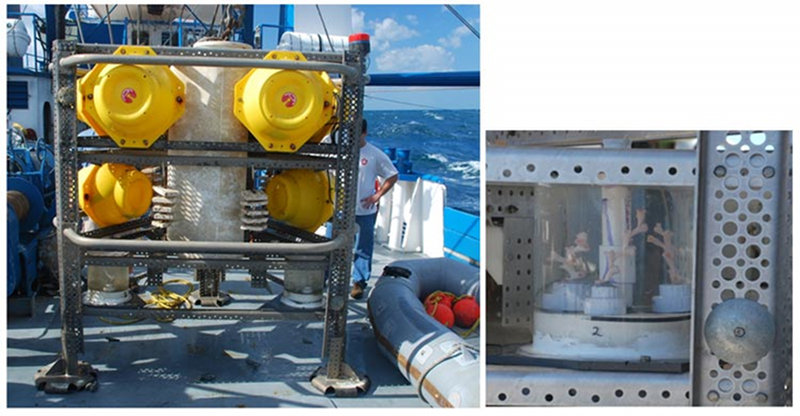 Once we see the lander, then all other recovery work is more routine with the ship steaming alongside the lander, grappling its recovery line, and using a crane or stern frame to lift the lander on board. Of course, rough seas can complicate this phase as well.
Once safely tied down to the ship, the tasks of cleaning, taking off instruments and data, and recovering experiments begins.