September 19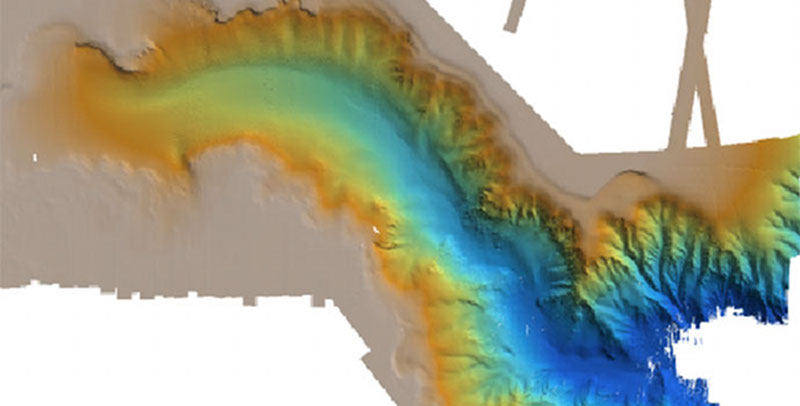 Leg 3 of Continental Shelf Associates' "Mid-Atlantic Deepwater Canyons" study, supported by NOAA and the Bureau of Ocean Energy Management (BOEM), got underway on September 17.
The NOAA ship Nancy Foster departed Norfolk, Virginia, in the early afternoon and headed for the edge of the Continental Shelf. Although high winds and rough seas hampered our initial activities, conditions have now improved and the science has begun in earnest. This project is a high-tempo, truly collaborative effort. This third leg alone has a 15-person science team representing 10 institutions.
Our work over the next two weeks is centered on Norfolk Canyon and sees the blending of biological, geological, and archaeological studies.
During the day, we will use the remotely operated vehicle Kraken II from the University of Connecticut to investigate archaeological sites, including nine shipwrecks. Those dives will focus on identifying and assessing the wrecks and recording any ongoing degradation. At the sites, we will collect video, still photographs, and possibly a small number of archaeological samples. At the same time, we will study the shipwrecks as habitat for invertebrates (particularly corals) and fish and will collect video and still photographs of both. We hope to collect selected invertebrates for studies identical to those conducted during Legs 1 and 2.
We will also study the immersed environment at the shipwreck sites by measuring depth, oxygen, temperature, salinity, and pH. At night, we will complete CTD and box core transects of Norfolk Canyon down to depths beyond 1,000 meters. Bottom trawling at depth ranges from 200 to 600 meters and further multibeam mapping of additional known and potential shipwreck sites complete the primary scientific objectives of this leg.