August 24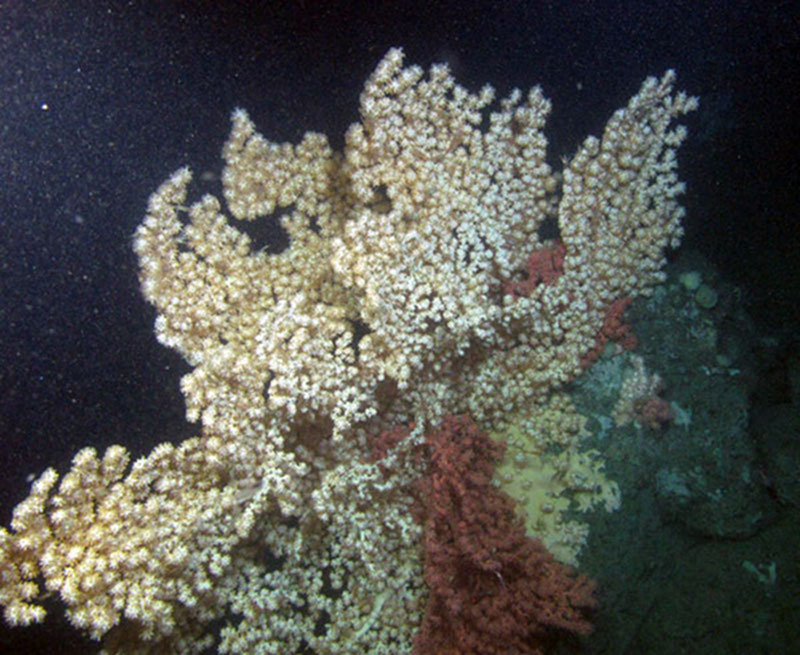 It's hard to believe a week has flown by so quickly – the days blend into each other out here, with no weekends off to break things up. The cruise has been going very well so far; a few hiccups and glitches as always but the ROV dives and night time operations have gathered lots of information on the canyons geology and seafloor communities. We have seen some amazing things in the past few ROV dives including a bubblegum coral that was almost 15 feet tall, and patches of carnivorous brittlestars that were buried in the mud with their arms in the air ready to capture small squid and fish that come within their grasp. The habitat within the canyon ranges from smooth and muddy in the deeper areas, and rugged exposed hard-bottom in the shallows nearer the mouth of the canyon.  The hard-bottom habitat varies from sheer walls of compacted mud with large coral colonies attached, to low relief ledges with numerous small caves beneath the overhang. Nearly all of them have a crab, fish or occasionally an octopus peering out from the doorway, but these animals probably did not make the dens so their origin is rather a mystery.
Anyone who spends time offshore has probably noticed that any floating structure attracts animals that hide underneath. The same kind of principle applies in the deep sea – there is a lot of flat mud, but whenever a small rock or piece of structure shows up, animals colonize it or gather to hide behind it. One of the interesting habitats we came across was a gentle slope that was scattered with numerous large tube anemones. These tubes were colonized by clusters of 'lollipop' sponges and small anemones, all fighting for limited space on the limited area of stable substrate. Each anemone also usually had a small crab or fish in attendance. 
We had a good haul of specimens from the ROV today, mostly corals for microbiology, genetics, reproduction and growth work, but we also collected several fish, galatheid crabs and a variety of small invertebrates that were hitchhikers on the other samples. There are a remarkable number of small creatures that hide in the larger animals that we are targeting for collection. It's always fun to pick through the bio-boxes and see who is left behind.
Tomorrow is supposed to be rougher seas so we may have to call off the ROV dive as there is nowhere to hide out here. All part of the fun of working in the open ocean!