August 23, 2010
Today I was able to go on a quick side trip to go check out a nearby lighthouse. The Great Lakes are dotted with lighthouses, and the Thunder Bay area is no exception.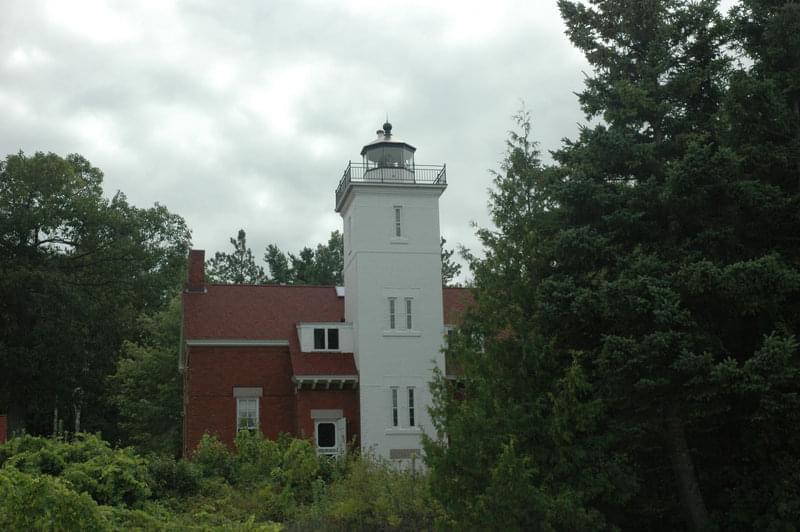 The reason for all of the lighthouses is the same reason that we are here looking for shipwrecks—the waters here could be rough and unpredictable. There were many ships that were transiting the lakes and coming in and out of ports close to rocky, uncharted shorelines. We had a little taste of this yesterday while we were out: we got a close view of several ships, more than we had seen total in the last few days.
During the 1820s, lighthouses began marking the shorelines of the Great Lakes, warning ships of hazards and foggy conditions, and marking harbors. The goal was for ships to always have a light in sight. Each of the lighthouses had to have a different lighting pattern so that it could be identified from sea. Lightkeepers were needed to maintain the lights and generally lived in quarters that were attached to or nearby the lighthouse itself. At 40 Mile Point Lighthouse, you can tour the lightkeepers quarters, which have been restored to the 1920s era. At that location, there were also assistant lightkeepers quarters and a bunk house, since it was so far removed from towns.
The United States Coast Guard assumed control of lighthouses in 1939 and continues to maintain active light stations. Many lighthouses today are run by non-profit organizations and used as museums.
Want to learn more? View interesting, comprehensive information on Michigan's lighthouses .