August 17, 2010
The day started at 8 a.m. with loading and transferring equipment for the autonomous underwater vehicle (AUV) to the research vessel (R/V) Storm. This included AUV control and data collection laptops, the WiFi antenna for communication with the AUV while on the surface, the AUV charging station, and UPS. Installations were completed by 11a.m., when we (all) returned to the assembly shed to get the AUV.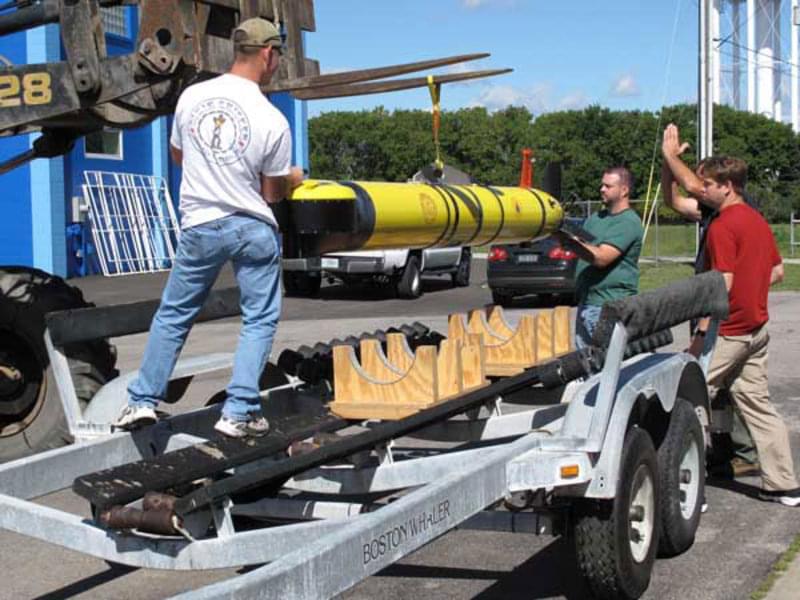 Originally, we planned to lift the AUV with the forklift used during assembly; however, its reach was too short. NOAA called in the pay-loader, which is a monster fork-lift. A lifting strap was looped over one of its forks and it quickly lifted and gently placed the AUV onto its cradle on a boat trailer. (By the way, the AUV on the trailer is quite fine-looking).
After a quick drive down to the marina, the AUV was launched on the boat-ramp just like a small skiff. Using the WiFi, it was controlled remotely from the research vessel (R/V) Storm and sailed over to the ship. (It did gather a fair amount of attention from a small group of siblings sailing a model boat in the marina, and another group in a small pleasure craft heading toward the ramp.) Finally, the AUV was loaded onto the R/ Storm with the ship's crane and strapped down into the cradles.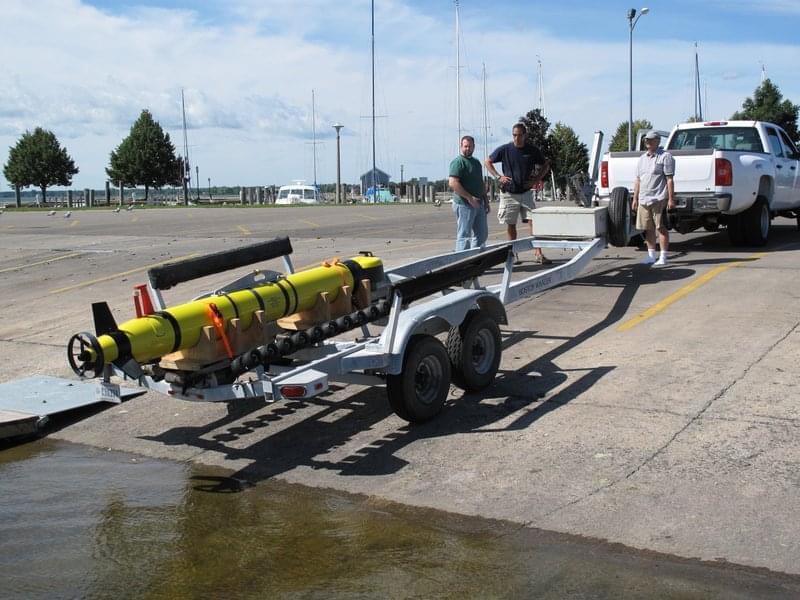 After lunch, we had a short all-hands planning meeting and decided to conduct a short survey to test the vehicle and the launch/recovery procedures. The location was near the Oscar T. Flint wreck site to avoid the higher seas farther out in Thunder Bay. We left the dock at 2:20 p.m. Once on site, we collected a sound velocity profile (SVP) and discovered a strongly downward refracting environment, which limited the expected sonar range to about 100 meter (328 feet). We planned a four-lane survey just outside of the Flint.
The launch was successful, but not yet graceful. We ran a 2 hour and 29 minute survey that ran a 13,260 m (43,503 ft) track. The survey ran smoothly with one glitch. Currently, the AUV is programmed to pop to the surface if it does not communicate with the support ship after 15 minutes. Today, we idled in one spot a little too long and let the distance to the AUV exceed the acoustic communications.
Fortunately, once surfaced, the AUV's mission was quickly modified and restarted. After that, the mission completed successfully. Recovery was a bit more graceful, but it still needs refinement. Battery recharge and data download was started in transit. We returned to port at 6:38 p.m.
Tomorrow, we plan to head out to the deeper site after a brief visit on the R/V Storm.