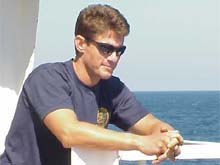 ---
We are the Ronald H. Brown
Mike Hoshlyk - Operations Officer
September 6, 2002
Lisa M. Weiss, Watershed Coordinator
Jacques Cousteau National Estuarine Research Reserve
The goal of the Ron Brown's crew is to ensure a productive and safe cruise—one that exceeds the scientists' initial expectations. This involves coordination with the various departments aboard the Brown (deck, engineering and officers). Mike Hoshlyk, Operations Officer, acts as the go-between, in addition to a list of other duties that fall under his scope of work.
Depending on the cruise, Mike prepares in various ways for a departure. Some scientists, like the TAO buoy group, are so familiar with the Ron Brown that they need very little guidance on ship's capabilities and operations. Other groups, who are less familiar with the ship and its capabilities, need a bit more direction both in planning and executing their scientific objectives. There are always long- term ancillary projects underway during the course of the survey season. The Ron Brown travels throughout the world's oceans and is therefore used by many university researchers for extended data collection.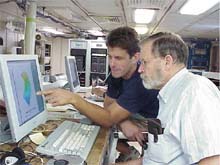 ---
Mike also works as a buffer between the crew members. On a 274-ft. ship, with anywhere from 30 to 50 people onboard, it is easy for co-workers to develop conflicts. Over time, sailors get into a certain groove, and some may become "curmudgeons," or as Mike explains it, people who have been at sea for a while can get set in their ways. As Operations Officer, Mike acts as the mediator in conflicts so that rough edges get smoothed out before they have a chance to alter the safety or effectiveness of the ship's work.
Mike also assumes the role of dive master aboard the ship. Because the Brown is not typically used for dive missions, diving is usually implemented only when the crew must fix and care for the bottom of the ship. Tasks for the dive team might include repairing pieces of equipment that protrude from the hull, removing fouling from the hull and propellors and, in some rare cases, patching a hole or crack in the hull. Being the dive master means Mike is on call 24 hours a day in case of an emergency. It also means diving in all sorts of seas and in all types of demanding conditions, such as at night, in zero visibility conditions and in strong currents.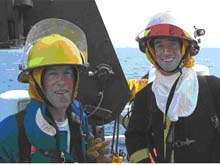 ---
Mike also plans for the ship's damage control drills. A ship at sea must complete certain types of drills on a weekly, monthly, quarterly and semi-annual basis. These are drills that have been mentioned in previous logs, (e.g., man overboard, abandon ship, fire) but they also include diving casualty, darkened quarters (where all the nights are extinguished and people have to find their way to their muster stations) and steering casualty (where the ship has lost its steering capabilities).
Mike also ensures that the safety equipment associated with these drills is always operational and ready. Such equipment includes fire extinguishers, fire hose stations, life rings and rafts, and eye wash stations. Because no public health service doctor was available for our cruise, Mike is currently filling the medical role also because he has worked previously as an EMT and has had experience treating injuries.
Mike's experiences before coming aboard the Ron Brown are quite diverse. He graduated from the University of Rochester, majoring in biology and geology. During this time, he participated in an internship at the West Indies Lab in Saint Croix, where he first became interested in NOAA because its underwater research habitat, known as the Aquarius, is located there. (This habitat has since been moved to Key Largo, Florida, and is operated by the National Underwater Research Center). After becoming a Junior Officer at the King's Point Merchant Marine Academy, Mike sailed on the NOAA Ship McArthur in the Eastern Tropical Pacific doing population studies of whales and dolphins, during a time when by-catch by tuna boats was a hot topic. Aboard the McArthur he sailed to Ecuador, the Galapagos, Peru, Costa Rica and Hawaii.
After this tour, he accepted a position at NOAA's Dive Program headquarters in Seattle, where he worked for five years as the Diving Program Equipment Coordinator and Executive Officer. He also served as a NOAA dive master instructor. There, he trained divers from other NOAA labs and ships, medical personnel, law enforcement agents, fire departments, secret service agents, the U.S. Environmental Protection Agency and customs officials.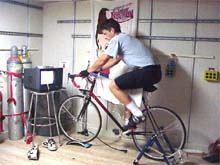 ---
TMike has also worked on the NOAA Ship Miller Freeman, a 220-foot stern trawler that conducts hydroacoustics and trawling assessment for maintaining a sustainable Bering Sea pollock fishery. Mike has also earned his Coast Guard Mate's license. In June 2002, Mike accepted the position as Operations Officer on the Brown.
Mike endures his long stints at sea by adhering to a regimen of fitness, proper diet and hydration, sleep, reading, catching up on movies and music. To keep himself conditioned, he rides his bike on a stationary trainer and uses weights and a climbing board for strength training. Mike admits that it is difficult being away from what some may consider a "normal" life, but life at sea is a relatively peaceful and unique existence. He says that despite all the technological advances, there remains a nostalgic romance to the sea. Plus, on a research ship such as the Brown, he gets the opportunity to travel to amazing locations.


---
Sign up for the Ocean Explorer E-mail Update List.