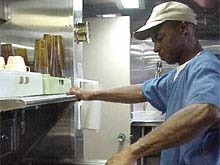 ---
We are the Ronald H. Brown
Richard Whitehead, Chief Steward
September 4, 2002
Lisa M. Weiss, Watershed Coordinator
Jacques Cousteau National Estuarine Research Reserve
Richard Whitehead is the chief steward, or as landlubbers would call him, the head chef. He is accompanied by two second cooks, Jim and Shawn. Together they make up the Steward Department. Three times a day, seven days a week, with a workday that runs from 5:30 am until 7 pm, these fellows keep 40 people fed aboard the NOAA Ship Ron Brown, as it is affectionately known.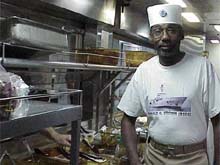 ---
In addition to factoring in the requests of the crew, including vegetarian meals and low-fat choices, Richard has to follow budget guidelines and restrictions, a nutritional program and dietetic guidelines, and NOAA union guidelines. There is also a Ron Brown menu committee that convenes about four times a year to discuss suggestions for menu changes and additions.
Richard is always aware of the nutritional quality of the menu items. He provides salt substitutes, 2 percent and soy milk, high-fiber cereals, and fresh fruit and vegetables at all times. He checks the nutritional information on all the food that he orders, and pays special attention to sodium content and saturated fats. To improve the crew's choices, for example, he replaced the Kool-Aid dispensers with juices. He does have to buy some pre-packaged and frozen food, but he makes sure that fresh poultry, seafood and meat choices are available.
---
You may be wondering how fresh fruit and vegetables can be offered on a ship that is out to sea for as many as 45 days at a time. According to Richard, these items go through a natural deterioration process in which a gas is released. The loss of this gas is responsible for the rapid aging of fresh foods, which eventually causes wilting, rotting and softening. By placing a trap over the blower in the refrigerators and retaining the gas, the stewards proong the life of the produce.
The Steward Department has other duties as well. Richard submits his ordering list in advance so that fresh food and supplies are waiting when the Ron Brown arrives in port. He also comes up with new menus and provides variety in food choices. There is always a vegetarian entree, and often two others at both lunch and dinner. To facilitate creative menu planning, he refers to books and CD-ROMs with more than 70,000 recipes. The stewards post the day's menu at breakfast, so those on board know what to expect for the rest of the day, and can look forward to the "famous" desserts!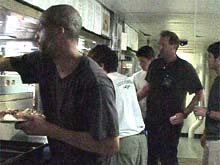 ---
The stewards also try to make meals fun, since eating is one of life's joys. Occasionally, everyone enjoys a deckside barbecue. Fishing lines are often out, so as not to miss an opportunity for a "fresh catch of the day." On the other hand, there are days when rough seas make it difficult to work in the galley. The stewards have to keep things tied down and balanced, and use extra care with things like knives and ovens. The ranges have "sea rails" that the stewards use to steady themselves, and large pans take up all the space inside the oven so the food doesn't get tossed around. Menu planning is especially important on rough days because people aren't feeling well -- a concern only a chef at sea would have.
Richard's experience is vast. He was a chef for the Navy, the Army National Guard, and in restaurants before he came to work for NOAA. He is a past recipient of the NOAA Employee of the Year Award, and is also a Department of Commerce Bronze Medal winner. He says the toughest part of his job is getting comfortable with new people who come onto the ship, learning their eating habits and their likes and dislikes. He believes that the food "on the line" is a direct reflection of the Steward Department, so it's up to him to make sure that the finished product is presented on time and is appealing to both the eye and the palate.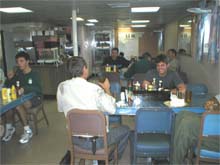 ---
The most rewarding part of his job is receiving honest opinions, be they praise or criticisms. He respects people who offer him constructive criticism and appreciates all suggestions. According to Richard, he could cook a million meals, all wonderful or all terrible, "But a cook is only as good as his last meal."
Several crew members said that the chief steward is in many ways responsible for the morale of the ship. A well-fed crew is a happy crew. It's difficult to keep an experienced crew on the ship if the food isn't excellent. Richard has a knack for keeping "his people" in high spirits, especially when he makes his macadamia nut cookies!
---
Sign up for the Ocean Explorer E-mail Update List.