Holly Jablonski: Video Transcript
Introduction
I'm Lieutenant Commander Holly Jablonski and I'm the commanding officer of the NOAA Ship Nancy Foster.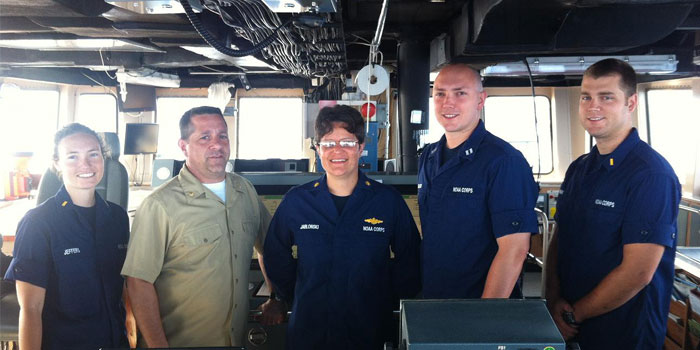 About Holly's Job
I'm a member of the National Oceanic and Atmospheric Administration's Commissioned Officer Corps. It is a uniformed service. We're not an armed force, but we are commissioned officers, similar to the Public Health Service.
My assignment right here on the Nancy Foster, as commanding officer I'm ultimately responsible for, first and foremost, the safety of the personnel and the ship. So that's always highest priority. I'm also ultimately responsible for the success of our missions and just the general operations of the vessel. Most of what I focus on is big picture, and then, fortunately, I have an amazing crew. They're skilled, they're responsible, they all pitch in to ensure Nancy's success and a lot of my work is completed through delegation to them. So they're critical in the success of the ship.
Lots of Locations
As a Corps officer, like I said, we rotate assignments every two to three years. So throughout your career, some officers transfer and relocate extensively, from coast to coast or up in Alaska or Hawaii. I've been up and down the East Coast, primarily. When I've been on ships, I've been mostly on the eastern seaboard, but I've also been down to the Caribbean. I've augmented on a couple of ships that have put me in the eastern Gulf of Mexico, and on the west in the Pacific a little bit, and then the Bering Sea. My experience there is not as extensive, but mostly East Coast, eastern seaboard.
Educational Requirements
To become a NOAA Corps officer, most officers will have a bachelor's degree, at least a bachelor's, in engineering, math, or some type of sciences pertaining to NOAA's mission. So your physical sciences, your marine biology, that type of thing. When you dig down into the actual policy of our requirements, you have to have a minimum of a bachelor's degree that was awarded from an institution that's been accredited by, or with accreditation, recognized by the U.S. Department of Education. So basically, a United States accredited college. And then, technically, the degree does not have to say, "math, science, engineering," but you have to have completed at least 48 semester hours of coursework in engineering, math, or sciences pertaining to NOAA's mission, including college-level calculus and physics.
Pay Scale
The NOAA Corps pay scale is identical to the military pay scale, so anyone can go online and look up a military pay, it's based on rank, time in grade, time in service. In general, we do have a base pay and then we have some tax-free allowances that depending on what assignment you're in and your skills and where you're located, that'll vary. So the general estimate that we give people who are looking for entry level, first entering the Corps as an ensign is around $40,000 a year.
Meet LCDR Holly Jablonski
I grew up in southern New Jersey and spent time on the water there. My brother had a small boat. So I'd been out and about on boats and enjoyed that. When I went to college, I went to the Midwest, the great land-locked Midwest, and it was that point that I realized how much I missed being around water.
As far as an interest in ocean sciences, I'm not as much interested in, say marine biology, as technology and things like that. My degree is engineering, so I am interested in more of the applications of the engineering and technology and the things we can do with it on the water.
Fascinating Work
My background is in hydrography and when we were mapping, to see the things that were under the sea, that people don't know about, you know, the shipwrecks and things like that. And now, working on Nancy Foster, which has a slightly different mission and you see the ROV work, and the corals and the fish and the work that they're doing to track the endangered fish, they're tagging them underwater. There's so many interesting things that we've done. It's hard to pick one particular thing.
If you're looking for a good sea story, when I was an ensign, we found an uncharted wreck and we did a scuba dive on it to verify the depth on it and a pod of dolphins came by. So we're sitting on the bottom at this uncharted wreck and here's this pod of dolphins that are about twice the distance from me to you.
So there's the really cool stuff and there's the most fascinating thing you've done. The whole thing is pretty fascinating. There's so much we don't know about what's under the sea.
Job Rewards
My background has been hydrographic survey. I find it rewarding knowing that we're contributing to the safe navigation of vessels, which directly affects the economy and we are under the Department of Commerce. So I find that rewarding. And the other work that we've done on Nancy Foster, the sustainable fisheries and things like that, everyone loves their seafood, right? So, I think what we do benefits the public. I think a lot people aren't aware of how the things we do benefit them.
Also, specifically as commanding officer of the vessel, and as I've gotten further up in rank, a personal reward is knowing that I'm starting to gain more influence in being able to hopefully create positive situations and positive events for my people, my ship, and the organization as a whole.
A Unique Opportunity
The NOAA Corps is a very unique career path. And www.noaacorps.noaa.gov will give you information. If anyone, if young folks are interested in finding out more about the career, contact the recruiting branch. It's in Silver Spring, Maryland. We only have two recruiters because we're so small, but they're happy to talk to people. It's a very unique career opportunity.
Return to profile