Discovering National Treasures
November 9 , 2005
John Reed
Senior Scientist
Division of Biomedical Marine Research (DBMR)
Harbor Branch Oceanographic Institution (HBOI)

View video footage of what some the ship and science crew believe to be a "dummy bomb." Others from our mission are not sure what it is. (Quicktime, 916 Kb.)
I have studied deep water reefs for nearly 30 years using the Johnson-Sea-Link submersibles from Florida to the Bahamas, in the Caribbean and even throughout the Galapagos Islands in the Pacific.
But most of my work has been on the deep water Oculina coral reefs we discovered in 1975 which occur exclusively off east Florida at depths of 280 feet. Although they were protected as the first deep-water marine reserve in the world, I have seen these magnificent living reefs disintegrate into piles of coral rubble, primarily from bottom trawls.
At that time we didn't know that there were even deeper reefs off the coast of Florida.
I got my first glimpse of the deep Lophelia reefs that we are studying on this cruise in 1985 when Harbor Branch engineers were testing a new Remotely Operated Vehicle (ROV) in the Gulf Stream. We finally got the ROV to the bottom in the strong currents and for just a few moments I saw bushes of live coral, sponges and sea fans (Figures 1, 2, and 3). Right then I was hooked on these deep reefs that no one had previously seen.
It took nearly 20 years to get back to see them in person with the JSL sub. This dive that I am making today is very near the location of that first ROV dive.
I chose this unexplored reef from a series of fathometer transects that I have made of the bottom all along the east coast of Florida (Figure 4). This reef is one of the largest ever recorded in the western Atlantic Ocean; over 500' tall and nearly 1 mile in diameter.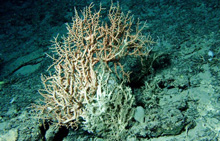 Figure 3: Madrepora occulata coral. Madrepora are one of the three dominant corals which make up the deepwater reefs off Florida. Click image for larger view and image credit.
---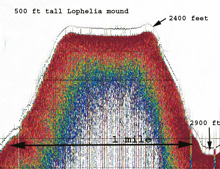 ---
As we settled the sub to the bottom today, we landed at 2700 feet on a 45 degree slope covered with coral, sponges, and some sea fans. We spent the next 3 hours working our way to the top plateau of the reef at 2400 feet, documenting the habitat with video transects and collecting samples of corals and sponges for the various research projects.
Although this was exciting enough, a little extra excitement was added when an 8' swordfish attacked the sub, unfortunately moving too fast for us to snap its picture before it sped away.
Our dive today proved that this huge mound discovered with the fathometer was in fact built entirely of coral which is probably over tens of thousands of years old. I have submitted these deep reef sites to the South Atlantic Fishery Management Council
with the hope that they will designate them as Habitat Areas of Particular Concern. This would help protect them from bottom trawling or oil drilling which could destroy these national treasures just as we are discovering them.
Florida Coast Deep Corals will be sending daily reports from Nov 7 - 21. Please check back frequently for additional logs from this expedition.
---
Sign up for the Ocean Explorer E-mail Update List.