Chemical Ecology on Deep-Sea Coral Reefs
November 12 , 2005
Valerie J. Paul, PhD.
Head Scientist
Smithsonian Marine Station

View video footage of bamboo coral, Keratoisis flexibilis, that bioluminesced with a blue glow. (Quicktime, 864 Kb.)

View video footage of the claw arm of the Johnson-Sea-Link collecting a purple gorgonian coral at about 2500 ft. in depth. (Quicktime, 936 Kb.)
I have studied chemically mediated predator-prey and plant-herbivore interactions on coral reefs for almost 25 years, but this is the first time I have explored chemical interactions on deep sea coral reefs.
With my students, research associates, and collaborators we have been able to show that chemical defenses play an important role in predation and competition in shallow reef habitats.
Many seaweeds, sponges, octocorals (soft corals, sea fans, gorgonian corals) and other sessile – attached to the bottom - organisms that cannot escape predators by swimming away or by physical defenses such as spines use toxic or distasteful chemicals to deter predators.
Sessile invertebrates such as sponges and octocorals are abundant on the deep sea reefs we have explored on this expedition (Fig. 1). Of course there are no seaweeds on these deep reefs at depths of 1,300-2,500 where light does not penetrate, so I will work on chemical ecology of benthic (bottom-dwelling) invertebrates. I have chosen to focus on the octocorals for this initial survey of chemical defenses because of their diversity and abundance in these deep reef habitats.
I have been impressed with the size, abundance and variety of soft corals and gorgonian corals we have seen. The videotapes made from the submersible document this diversity (Fig. 2). While some species, such as the bamboo coral Keratoisis flexibilis (Figure 3), seem to occur at a number of the different pinnacles we have explored, there are also some notable differences in species distributions from site to site. For example, collections of some large sea fans were made our dive off the Ft. Lauderdale area of Florida; these species had not been seen at our previous sites.
We have already observed an interesting biochemical phenomenon in one of the octocorals—the brilliant blue bioluminescence produced by the bamboo coral (see the video clip).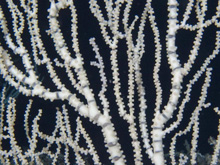 Figure 3: Close-up of the bamboo coral Keratoisis flexibilis. This coral surprised us with its blue bioluminescence when we touched a sample in the laboratory onboard ship (see video clip). Click image for larger view and image credit.
---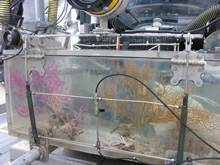 ---
Collecting specimens is just the beginning of this research, much of which will take place back in the laboratory (Figure 4 and video clip). Once the samples are collected and brought to the surface they are labeled, photographed, and then frozen to prevent possible decomposition of defensive compounds that can sometimes be unstable.
Back in the laboratory at the Smithsonian Marine Station in Ft. Pierce, Florida, we will extract the samples with organic solvents and begin the process of isolating the defensive compounds. We will document the types and concentrations of compounds we find in different species and from different collections sites.
We will also test the extracts and compounds toward predators to see if the samples contain feeding deterrent compounds. This will pose some challenges because it is important to conduct these studies with some consumers that occur in the natural deep reef habitats, and maintaining these animals in aquaria may be difficult. Fortunately, some of the scientists on this expedition who have experience working on these deep reef habitats have suggested fish and sea urchin species that might be good candidates for these studies because they can be readily maintained in chilled seawater aquaria.
Overall, this is an exciting opportunity for me and members of my research group to begin to explore the chemical ecology of deep sea reefs. Results of these studies will provide ecological information about the importance of chemical defenses in mediating predator-prey interactions in deep sea environments and can be compared with information obtained from shallow reef habitats around the world.
Florida Coast Deep Corals will be sending daily reports from Nov 7 - 21. Please check back frequently for additional logs from this expedition.
---
Sign up for the Ocean Explorer E-mail Update List.