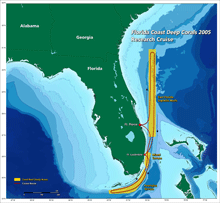 ---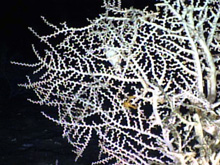 Figure 2. This image of the stony coral Madrepora oculata shows the distinctive zig-zag shape of the colony. Click image for larger view and image credit.
---
Mission Plan
Sandra Brooke, Ph.D.
University of Oregon
Background
Deep-water topographic features are abundant at various locations off the southeastern United States, the SW Florida slope and the eastern Gulf of Mexico. Deep-sea corals are major components of these features, acting as framework-builders and providing habitat for other organisms within their structures. Deep-sea coral structures and their associated fauna are often referred to as bioherms or lithoherms. Bioherms are defined as ancient organic reefs of mound-like form built by a variety of marine invertebrates. Some consist of caps of living coral covering unconsolidated mud and coral debris. Lithoherms however, are high relief, lithified carbonate limestone, which provide hard substrate for a variety of bottom-dwelling fauna, including corals. These topographic features occur extensively throughout the world's oceans and have great potential resource value. However, their benthic (bottom-dwelling) invertebrate and fish populations have only been described for a small percentage of these deep-sea coral ecosystems (DSCE).
Expeditions in 2002 and 2003 funded by the National Oceanic and Atmospheric Administration's Office of Ocean Exploration (OE) initially explored additional deep-water reef sites in the western Atlantic and northern Gulf of Mexico. These were the first submersible and ROV dives ever to document the habitat and benthic biodiversity of some of these deep-water reefs.
The Expedition
With the continuing global depletion of coastal fisheries, commercial fishing vessels are moving into deeper water and exploiting fish and crustacean species that are frequently associated with complex coral structures. Deep-sea coral ecosystems exist at numerous locations around the coast of Florida. These coral communities are composed of different types of corals, including stony corals, primarily Lophelia pertusa (Figure 3); soft corals (Figure 2); and hydrocorals (Figure 4). These corals all provide habitat for relatively unknown but highly diverse assemblages of fish and invertebrates, many of which are undoubtedly undescribed species. There is therefore an urgent need to identify these coral habitats, map their distribution and abundance, and document any potentially valuable fishery species associated with them. NOAA and the South Atlantic Fishery Management Council have requested information on the DSCE's in the South Atlantic region in order to designate potential new areas for protected status. Data compiled during the Florida Coast Deep Corals expedition will therefore provide useful information for management as well as science.
Our primary objectives are to explore the distribution and characterization of communities found in association with lithoherms and other high relief, live-bottom, geological features in the regions of interest. Our secondary objectives will address aspects of coral biology, diversity of associated fauna, and microbial ecology. Education and public outreach efforts are also a significant aspect of what we intend to accomplish.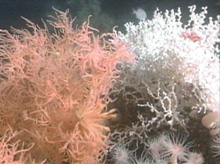 ---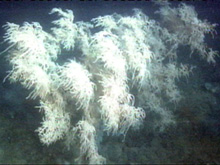 Figure 4. This large white antipatharian (Black Coral) colony is well over a meter tall. Black corals are named for their hard dark skeleton, which is harvested in some parts of the world to be carved into jewelry and ornaments. Click image for larger view and image credit.
---
Since deepwater reefs are not visible to the general public, dissemination of information through the media and the education system is vital in order to create empathy for their protection. The overarching objective of this mission is to increase current understanding of deep-sea coral ecosystems along Florida's coasts. Previous explorations have determined that these habitats are widespread, but we still know very little about the extent or distribution of the corals, their ecology or their role as essential fish habitat. Primary objectives explore the distribution and characterization of communities found in association with lithoherms and other high relief, live-bottom, geological features in the regions of interest: the base of the Florida-Hatteras Slope and the Miami and Pourtalès Terraces. Secondary objectives address aspects of coral biology, diversity and genetics of associated fauna, and the microbial ecology.
Sampling Methods
Much of the data we will be collecting consists of still images and video transects that are taken with the Johnson-Sea-Link submersible digital camera or video system. This information will be analyzed to provide an overview of the distribution of corals and other major groups of animals within each region we visit. The large animals will be collected using the submersible's claw, suction hose, or scoop. Each organism has a different shape and fragility, so methods that work well for some animals may not work for others. The submersible pilots decide the most appropriate sampling device for each objective, but the advantage of available collection methods is that they can take very small pieces of corals without destroying the whole colony. Water will be collected from very precise locations within a coral colony, using a tube that penetrates the submersible skin and allows uncontaminated samples be collected inside the sub. These samples will be used by the microbiologists to compare microbial communities in the water close to a coral with those found within the coral mucus. A passive acoustic monitoring system (PAMS) will be deployed on one of the coral ecosystems to listen for fish sounds. Fish make specific sounds during different behaviors such as aggression and spawning. Dr. Gilmore will interpret the sounds to determine both fish species present and behavior type. The submersible is not the best tool to study fish since some species hide in the reef or leave the area when confronted with the lights and noise of the submersible. The PAMS allows us to monitor fish behavior without being intrusive.
Itinerary
This expedition will consist of 2 separate legs with a science personnel switch on November 13th. Two submersible dives per day are planned.
Leg 1 (November 7-13) Florida Hatteras Slope, Strait of Florida, Jacksonville to Jupiter; Lophelia mounds: 2400-2800 feet deep. The first few days will be spent in the region of northeastern and central Florida from Jacksonville to Jupiter, working down to Fort Lauderdale in time for an exchange of 4-6 personnel on November 13th in Dania Beach.
Leg 2 (November 13-21) Strait of Florida and Miami Terrace Escarpment (900-2400 feet deep); Pourtales Terrace and Agassiz/Tortugas Valleys (600-3000 feet deep). The first few days will be spent in the region of Miami Terrace, working south to Florida Keys, then working our way back north with final dives in time for arrival back at Harbor Branch Oceanographic Institution on Nov. 21.
---
For more information
www.lophelia.org

Lophelia.org is an information resource on the cold-water coral ecosystems of the deep ocean.

South Atlantic Fishery Management Council

The South Atlantic Fishery Management Council, headquartered in Charleston, S.C., is responsible for the conservation and management of fish stocks within the federal 200-mile limit of the Atlantic off the coasts of North Carolina, South Carolina, Georgia and east Florida to Key West.