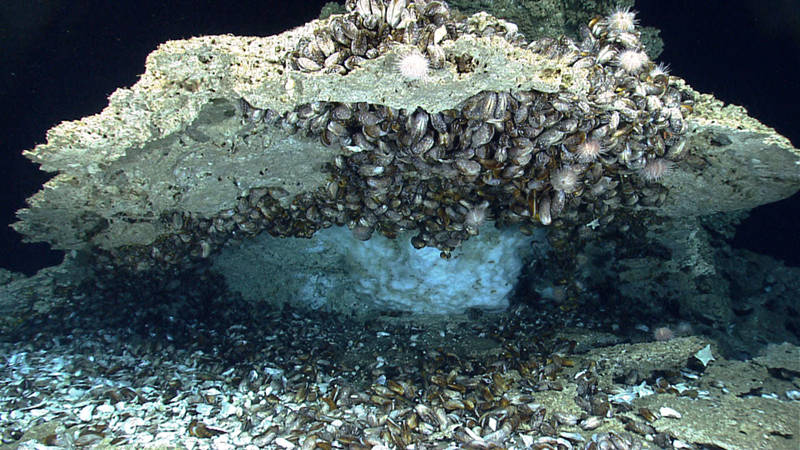 Educator Exploration into the Mysteries of Fire Ice: Cold Seeps and Chemosynthetic Communities
Educators of grades 6-12 are invited to join a NOAA Ocean Exploration facilitator and our Education Alliance Partners for a professional development workshop. Together we'll explore the wonder of cold seeps - investigating what are cold seeps, how and where do they form, and how do they support biologically diverse communities in the absence of sunlight?
This workshop will include:
A brief video introduction to the geology and biology of cold seeps
Demonstration of student investigations designed to guide student sensemaking of cold seep phenomena
Reflection and discussion with peer educators
A guided tour of associated free, online educational resources available from NOAA Ocean Exploration and the Deep Ocean Education Project
Registration is required and space is limited. Registered educators will receive a collection of classroom-ready resources to bring cold seeps alive in their classrooms including student investigations, videos, fact sheets. Additionally, educators that attend a NOAA Ocean Exploration Certificate of Participation and a $75 stipend.
This spring, NOAA Ocean Exploration is excited to offer both virtual and onsite professional development workshops around the country in cooperation with our Education Alliance Partners. Virtual workshops will feature modified agendas to best engage educators from the convenience of their home or school. In-person workshops will provide educators the opportunity to engage with peers in their surrounding communities and to test out the student activities together. Check out our Spring 2023 opportunities below and register today!
Virtual Opportunities
90-minute, live online workshops
Loveland Living Planet Aquarium (FULL)
Great Lakes Aquarium (FULL - Join the Waitlist)
Dauphin Island Sea Lab (FULL)
Oregon Museum of Science and Industry (FULL)
American Samoa National Marine Sanctuary (FULL)
Onsite Opportunities
Four hour, in-person workshops
University of South Florida (Tampa, FL) (FULL)
South Carolina Aquarium (Charleston, SC) (FULL)
Aquarium of the Pacific (Long Beach, CA) (FULL - Join the Waitlist)
EcoExploratorio: Museo de Ciencias de Puerto Rico (San Juan, PR) (FULL)