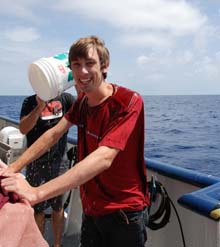 Marine biology undergraduate student Ryan Keith gets doused with seawater by Dr. Steve Haddock after his first submersible dive experience. Click image for larger view and image credit.
---
Deep Thoughts
July 29, 2009
Ryan Keith's Amazing Day!
Today was an amazing day. After nine days of waiting, I finally got to make my first dive in the Johnson-Sea-Link II. I did not know what to expect in the submersible other than a really cramped space and a small porthole in the rear compartment. The launch was growing closer and closer, I was walking out the door, entering the sub through the bottom hatch, receiving a safety briefing from the sub's navigator, and before I realized it, we were on our way to a depth of over 610 meters (2,000 feet).
The submersible was fantastic! For three and a half hours all I could do was smash my face against the porthole and think to myself, "I'm at the bottom of the ocean. I'm exploring a place that less is known about than the surface of the moon." The ridge we explored was teeming with life. Everywhere I looked there was something: a sea fan, an odd-looking fish, or one of the many little crabs.
I am just thankful to be given the opportunity to participate. This is a trip that not many undergraduates have the chance to take. This expedition will assist me in making numerous career choices down the road. I have learned that there is more to marine biology than dolphins, fish, and coral. The deep sea holds many extraordinary secrets that are waiting to be unlocked, and I hope to be part of revealing those secrets in the future.
I would like to extend my gratitude to the scientists and crew on the boat. The scientists were an amazing group of people. They all have interesting backgrounds and stories to tell. Over the last 10 days, everybody has become a rather large family.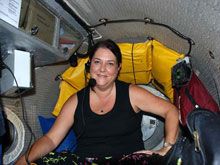 NOAA's Office of Ocean Exploration and Research Web coordinator Susan Gottfried in the Johnson-Sea-Link aft chamber. Click image for larger view and image credit.
Susan Gottfried's First Sub Ride
My first ride in a sub today was a surreal experience. The best way that I can describe it is that it is like falling through the stars and landing on another planet. At 610 m (2,000 ft) depth, the ocean is just totally and completely black except for the glowing things that either float by with the current or glow from their perch. Some looked like embers from a bonfire, like little strips of paper glowing in iridescent red, orange, and yellow. Most are just a bluish-green. I saw one little shrimp glowing in the reflected light and doing back flips and front flips and twirls, and was just having a grand ole time right by my porthole.
Dr. Edie Widder, as the front observer, preferred to observe with the lights off. One time we turned on the lights, revealing a scene of elaborate geological ledges teeming with life — big coral fans or bush-like colonies of coral polyps, sponges, crustaceans, and fish. The coral colonies look for all the world like plants, but they are all animals.
And nestled here and there in these colonies are other-worldly-looking creatures that seem like they are right out of a Dr. Seuss book. One peeked out at us from within the coral colony and made me laugh as I watched the monitor. And then, when you turn off the lights and poke these plant-like animals, some will give off an electric show with their bioluminescence radiating up and down "the plant." The Venus flytrap anemone looks just like a smaller version Audrey from the Little Shop of Horrors, and when poked or squeezed, it spews out bioluminescence.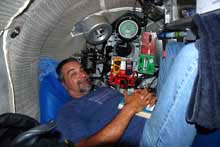 Johnson-Sea-Link pilot Frank Lombardo settles in the aft chamber of the submersible. Click image for larger view and image credit.
---
The most thought-provoking idea I had is that for that one brief moment, we just happened to visit that little spot and shine some light, and that may be the only light that has ever shown on this place, and maybe ever will. And yet everything is brightly colored: red, yellow, gold, purple, white, pink. Why? Why do these creatures need all these different colors? Red is for camouflage, because red is the last color in the spectrum; and so if you're red in the sea, you're invisible. But the same kind of coral bush that is a beautiful shade of gold will have one right next to it that will be a darker shade of gold, and another will be a different shade again, and so on . . . . Why? And why do the crabs and shrimp that live here have eyes? It has to be because of the bioluminescence.
The inside of the compartment I was in with another member of the sub crew, was basically a 3-x-3-x-6-ft area. It was equipped with monitors, environmental sensors, carbon dioxide scrubbers, and enough provisions to keep us alive for five days — if some unthinkable thing were to happen. I wore a headset over which Dr. Edith Widder provided information for me to record in the dive log. I had two portholes, one on either side, and the sub pilot would turn on the overhead lights so that I could see some of what was there. I have been reviewing dive tapes for five years, but seeing the deep sea in person was truly remarkable.
Bioluminescence is everywhere in the ocean. During the ascent, when the sub railing would happen to strike one of the more ephemeral-looking glowing things, they would just disperse like red-hot ashes in a cup of water. At Dr. Widder's request, the sub pilot would flash a light and some of the endless invisible animals would answer with a similar flash that would gently fade away. It was as if they were saying, "Thanks for visiting. Come back anytime." I only wish.