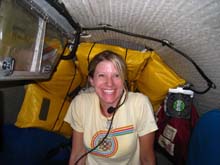 Dr. Erika Raymond in the aft compartment of the Johnson-Sea-Link submersible. Click image for larger view and image credit.
---
A Deep-sea Mystery
July 26, 2009
On the morning of July 21, 2009, the Eye-in-the-Sea (EITS) was deployed with a bait box and some fish carcasses bound to its frame. Within minutes, a large school of Cuban dogfish sharks surrounded it and began tearing at the bait and swimming in and out of the EITS frame — just like a pack of playful puppies.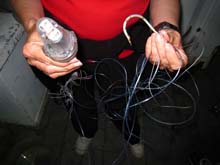 This mysterious lure and hook was recovered next to the capsized Eye-in-the-Sea. Click image for larger view and image credit.
---
Only five hours later, the EITS is found capsized and dragged 20 meters. Nearby, a six-gill shark was spotted innocently swimming around. And next to the capsized EITS: a tangled mess of fishing line with a rusty hook and an illuminating lure — still glowing — attached.
What do you think happened? Submit your guess through our Ask an Explorer page. On Thursday, we'll reveal the amazing footage that the EITS captured, solving the mystery.
Some of Your Guesses
My guess is that there is a ground fish aspect to this project. Long-line gear is being used to collect animals for tagging and sampling. The blinking long-line light is being used to attract sharks and prevent loggerhead turtle by-catch The fishing group caught the EITS group's camera when recovering their gear.

~ Steven, Alaska
The shark saw the flashing lure and found the bait box and tried to drag the bait box away and in doing so turned the EITS on its side. The Cuban dogfish probably attracted the shark along with the illuminating lure to the EITS vicinity. No fisherman — that was already tangled up — probably something left on the sea floor since the hook was rusty. I am puzzled why the illuminating lure was still flashing. I guess they used Eveready batteries.

~ Marlene, Alexandria, Virginia
I have seen in the past from accounts of sub-pilots that swordfish get extremely irritated by lights on the bottom. This rig is very similar to ones used to swordfish. Could a swordfish that was hooked by this gear also have been annoyed by your EITS, and perhaps used it to remove the entanglement?

~ James, Barron Collier High School
I think the shark was entangled in a long-line. It had the illuminating lure and hook still attached to it. The hook and line became entangled on the EITS, so as the shark attempted to swim away, it pulled the EITS along with it.

~Patty
Once recovered on July 23, the EITS footage revealed the culprit on camera.