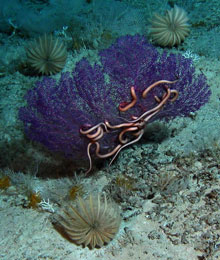 Figure 1. Three Endoxocrinus maclearanus flank a purple sea fan with a snake star. Click image for larger view and image credit.
---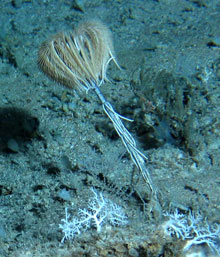 Figure 2. A tall sea lily, Endoxocrinus prionodes, with its arms collapsed under slack current. Click image for larger view and image credit.
---
New and Unusual Crinoid Discovered
July 24, 2009
We are pleased to report the discovery of a new species (and possibly a new genus) of stalked crinoid, or sea lily, belonging to a family previously unknown in the western Atlantic Ocean. The miniature palm-tree-like animal, a relative of sea stars and sea urchins, is a member of the crinoid family Phrynocrinidae, which includes only four other species known from the northeastern and southern Atlantic, the Indian, and western Pacific oceans. It differs from these, and from all other living crinoids, in having an unusually large number of feathery rays instead of the typical five.
The new sea lilies were found on elongated limestone ridges called lithoherms that lie in a broad swath all along the western margin of Little Bahama Bank in about 580 to 700 meters (1,902 to 2297 feet) depth. Some of these ridges are enormous — up to 50 m (164 ft) high and 300 m (984 ft) long — and look like long, overturned eroded boats. Others are little more than rough spots on the sea floor. But whether small or large, crinoids are among the commonest animals found there.
Crinoids are echinoderms, like sea stars and sea urchins, and like their cousins, have the same basic five-sided symmetry, the same internal system of canals ending in tube feet, and the same unusual ligament tissue that can alter between rigid and flaccid states. Unlike any other living echinoderms, however, crinoids attach to the sea floor via a stalk and use tiny fingerlike tube feet along their feathery arms to capture fine suspended particles of plankton and detritus from the water. Most living crinoids lose their stalk shortly after their larval stage and are called feathers stars. However, most lithoherm crinoids keep their stalk.
Before this expedition, we knew that four species of sea lilies lived on the lithoherms. The commonest, Endoxocrinus maclearanus (figure 1), has a short stalk and belongs to the crinoid family Isocrinidae, which is characterized by whorls of hook-like cirri (filaments) along the stalk for clinging to the sea floor, or to perches on corals or sponges. Isocrinids typically orient with the mouth facing downcurrent and curl their arms back into the current. E. maclearanus often perches in large numbers along the edges of limestone crusts characteristic of lithoherms, often appearing artificially planted in rows, like short-stemmed chrysanthemums. A close relative, Endoxocrinus prionodes (figure 2), stands taller on a much longer stalk. Another family member, Neocrinus blakei, is more delicate, with fewer arms that it arrays in a funnel, and prefers the weaker currents of the flat sea floor between ridges.
The fourth known lithoherm crinoid is quite different. Democrinus rawsoni (figure 3) lacks the hooks along its stalk and, though resembling a tiny palm tree (like the new species does), it has only five feathery rays.
The new species was clearly visible in the biobox when the submersible returned to the ship. A second smaller specimen was found later during detailed examination of the collection of sponges and other organisms made during the dive. The two demonstrate clear growth variations that will facilitate formal description of the species.