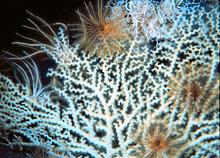 Two species of feather stars (the orange Stylometra spinifera and white Neocomatella alata) and a basket star (Astracme mucronata) on a stony coral fan (Madrepora carolina) in about 400 meters (1,312 feet) depth off Grand Bahama Island. Click image for larger view and credits.
---
Dark Hilltop Gardens
Along the western margin of the Little Bahama Bank at depths from about 300 to 700 meters (984 to 2297 feet) lies a vast swath of hundreds of limestone mounds. The larger marine creatures that live on these mounds are chiefly attached invertebrates that feed on drifting plankton and organic material brought by the Gulf Stream, and include stony corals, lace corals, sea fans, sponges, sea lilies, and sea anemones. Feather stars, brittle stars, and crustaceans (particularly squat lobsters), perch among the coral branches. These inhabitants have adapted to different current velocities (speeds and directions); so the increasing current strength along and up the sides of these mounds generates a pronounced zonation of organisms, much like one sees in the intertidal zone, where organisms have adapted to different levels of wave action and periods of exposure.
In particular, elongated ridges called lithoherms up to 50 m (164 ft) high and 300 m (984 ft) long at depths of 500 to 700 m (1,640 to 2,297 ft) may exhibit up to three distinct faunal zones: one dominated by the branching stony coral Lophelia pertusa on the upcurrent end of the largest mounds; gardens of enormous golden sea fans (actually a colonial anemone called Gerardia sp. that may live upwards of a thousand years) on the mound crests; and meadows of sea lilies and delicate white octocoral fans on the flanks and downcurrent end. Fishes range from small knife-shaped species that hide among the coral branches to great grouper-like wreckfish (Polyprion americanus) and the occasional big shark. These ridges have a layered, onion-like structure and appear to have developed as successive layers of calcium carbonate sand (the skeletal remains of plankton, corals and other organisms) harden over time into limestone crusts. The tops of the larger mounds are often eroded, probably by excavating sponges, into fantastic labyrinthine structures.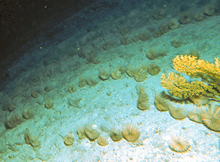 Rows of short-stalked sea lilies (Endoxocrinus maclearanus) clinging to limestone crusts along the down-current flank of a lithoherm at about 589 m (1,962 ft) depth. Click image for larger view and credits.
---
Surrounding these great ridges are much smaller ridges, flat limestone hardgrounds, and areas of fine sand. Some of the lithoherm residents live here as well, but there are others not found on the mounds, including white fan sponges and white precious corals. Most of the invertebrate residents are white or very pale, but there are touches of bright color: pink bubblegum coral fans, red-striped brittle stars, yellow feather stars, and orange anemones.
Although we know the names of many of these organisms, and have some idea where they live and perhaps what they feed on, we know almost nothing about their ecological interactions, how fast they grow, how long they live, or when and how they reproduce. And, as little as we know about these lithoherm ridges, we know far less about other mounds and deep undersea topography that we may visit along the western Bahamas. When my colleagues from the University of Miami recently used an autonomous underwater vehicle (AUV) to remotely map a series of sites in this region, every area they visited looked completely different, as if each had a different geological origin. I can only imagine how different and diverse the creatures that live on them may turn out to be.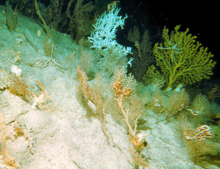 A grove of unidentified sea fans with resident brittle stars (Asteroschema sp.) coiled in their branches near the crest of a lithoherm at 580 to 600 m (1,903 to 1,969 ft) depth. The white colony (center rear) is the branching stony coral Lophelia pertusa. The golden fan (right rear) is the colonial anemone Gerardia sp., with a white chyrostylid squat lobster clinging to it. Click image for larger view and credits.
---