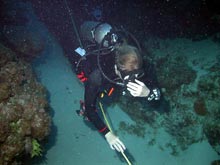 Twilight Zone technical diver Liz Kintzing lays a guide line along the wall face. The divers will use this line to orient themselves on their deepest dives. Click image for larger view and image credit.
---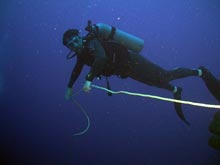 Twilight Zone technical diver Marc Slattery helps lay a guide line along the wall face. Click image for larger view and image credit.
---
Technical Diving Preparations
May 22, 2007

Sample collection dive at 250-foot (76-meter) target depth. (Quicktime, 5.83 Mb.)

Sample collection dive at 200-ft (61-m) target depth. (Quicktime, 11.4 Mb.)


Fluorescent coral sample collection dive at 150-ft (46-m) target depth . (Quicktime, 2.6 Mb.)
Team Twilight Zone (TZ) has arrived on Little Cayman Island to begin preparations for the deep diving component of our Ocean Explorer (OE) project. The water looks great, and while we are all anxious to see what is down there, we recognize that safety considerations warrant a little more patience on our part. Thus our first few days have included relatively shallow — 130 foot (39.6 meter) maximum — air dives to survey the study site during the morning, and gear tweaking in the afternoon.
Site orientation is an important component of dive safety. Surfacing from depth will require multiple decompression stops, and recognizing site landmarks will help the deep technical divers control their ascent rate. During our survey dives, we have deployed a weighted transect line down the wall to our working depths; this will act as a "road map" for the deep-diving team to follow to the surface. Once the diving begins, we will place, or "stage," designated decompression tanks (deco-bottles) along the line to be used for a safe ascent to the surface. It is worth noting, however, that the deep-diving team will be equipped with extra tanks, regulators, and dive computers, as well as their dive buddy. Safety is a prime concern for this "inner space" research project, so we have built time into our schedule to make the site and the team as safe as possible.
Over the next two days we will start to dive progressively deeper to 150 ft (45.7 m), using a deep Nitrox mixture that will allow us to work at depth for up to 25 minutes, with decompression of about 35 minutes. Then we will switch to a Trimix gas blend to access the Twilight Zone between 200 and 300 ft (70 and 91 m). Don't try this at home! Team TZ has trained extensively over the past 5 years to accomplish this work!!!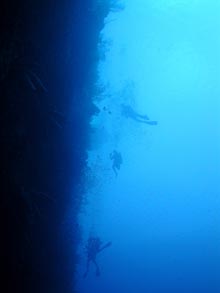 Twilight Zone divers make their first exploratory descent on the wall. Little Cayman has some of the steepest drop-offs in the Caribbean because it is perched on the edge of the 7,500-meter-deep Cayman Trench. This makes the location an ideal site to conduct our project. Click image for larger view and image credit.
---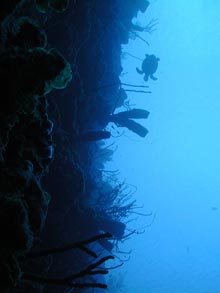 Although many of the species found at depth will likely be different than those seen on shallow reefs, some mobile organisms can actually move between shallow and deep reefs. This hawksbill sea turtle feeds on sponges that are common in both deep and shallow reefs. Click image for larger view and image credit.
---