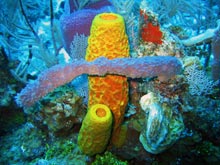 Sponge biodiversity and morphotypes at the lip of our wall site in 60 feet (18.2 meters) of water. Included are the yellow tube sponge (Aplysina fistularis), the purple vase sponge (Niphates digitalis), the red encrusting sponge (Spiratrella coccinea), and the gray rope sponge (Callyspongia sp.) Click image for larger view and image credit.
---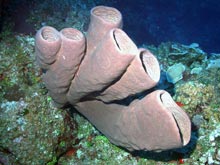 The Agelas conifera, a common sponge in the Caribbean, is found over a broad depth gradient. This makes it a great model organism to study phenotypic plasticity. For example, the Agelas sponge in the figure below is the deep water version of the same species. Click image for larger view and image credit.
---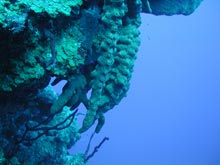 This brown sponge (Agelas conifera) is common on both shallow and deep Caribbean reefs, but grows to enormous proportions on deeper reefs, where it can form long creeping arms that extend into the depths. Click image for larger view and image credit.
---
Sponges
May 23, 2007
The most famous sponge in the world lives in a pineapple under the sea. (That would be the Nickelodeon cartoon character SpongeBob SquarePants, in case you don't know.) But many sponges in the Caribbean live on walls and deep reefs, where the nutrients and particles that they filter from the water column are found in higher concentrations than those on shallow coral reefs. Thus deep-water sponges grow larger and faster than those found in shallow water. Team Twilight Zone will collect sponge biodiversity data and samples from shallow- and deep-reef communities to better understand the role of sponges in coral reef ecosystems.
Sponges are among the most conspicuous organisms that live on coral reefs. They play a number of important roles, including filtering nutrients out of the water column, serving as food for a variety of fish and invertebrates, and even acting as the "glue" that holds a reef together. Since they are sessile (permanently attached to a base) and cannot run away from predators, many sponges produce chemical defenses that make them taste bad and, therefore, protect them from spongivorous (sponge-feeding) fishes. These same compounds may also kill cancer cells, fungi, or bacteria, so the chemistry produced by sponges has the potential to be developed into new drugs from the sea. We plan to assess the biotechnology potential of any new sponge species that we collect on the deep reefs. In addition, we will compare the chemistry within the same species across the entire depth gradient of shallow-to-deep reef to better understand the evolution of these important compounds and the selective pressures that lead to their production.
While sponges on Caribbean coral reefs have declined in numbers in recent years, we have generated a preliminary profile of the sponge biodiversity at the edge of our wall site — 60-foot (18.2-meter) depth — that is quite high. We have identified about 40 species to date, and perhaps a new species of Polymastia and two additional unidentified species. Even at the top of the wall, we have seen that about two-thirds of the species are unique to this habitat relative to a shallow site in 30 ft (9.1 m) of water. We predict more distinct species will be identified as our collection depth increases.
Our initial transects at 100 and 150 ft (30.5 and 45.7 m) suggest the community is made up of many common shallow-water sponges, although densities may be lower due to sedimentation deposited through the spur-and-groove reef topography. Nonetheless, those sponges we do find down deep are very massive, suggesting that nutrients from upwelling, and organic matter raining down from the reef, are being utilized by these deep-water individuals. This pattern is similar to what we have seen during other studies in the Bahamas, Belize, and Jamaica, so we anticipate a transition into the Twilight Zone at a depth between 200 and 250 ft (60.9 and 76.2 m). If everything proceeds according to schedule, we should reach that community early next week!