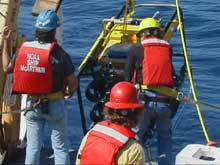 ---
Sanctuary Quest
April 24 - June 20, 2002
The U.S. coast from southern California to Washington state features vast areas of submerged mountain ranges, canyons, plateaus, volcanoes, basins, rocky outcrops, and pinnacles, many of which have never been surveyed or explored adequately. These unique conditions contribute to one of the greatest diversities of marine life in the world, including whales, sea otters, seabirds and hundreds of fish species.

Aboard the McArthur, the Sanctuary Quest Expedition team conducted research, exploration, and monitoring within and adjacent to the national marine sanctuaries
in this region. Over the long term, the expedition should help to provide a framework for understanding more about the efficacy and role of the sanctuary system in protecting and conserving marine resources, and to provide the impetus for continued regional research.

Background information for this exploration can be found on the left side of this page. Daily updates are included below. More detailed logs of exploration activities can be found on the right.


Watch an introductory video describing the objectives for the Sanctuary Quest mission. (QuickTime, 2.5 Mb).

---
Updates & Logs
Click images or links below for detailed mission logs.
---
Sign up for the Ocean Explorer E-mail Update List.