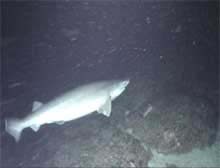 ---
Cordell Bank National Marine Sanctuary Team Heads Out on Sanctuary Quest
May 26 - May 27, 2002
Jennifer Stock-Education Specialist
Cordell Bank National Marine Sanctuary
The Cordell Bank National Marine Sanctuary Sanctuary Quest leg has begun. After testing the engines on the McArthur, we departed San Francisco and sampled at two EDS (Ecosystem Dynamics Study) sites.
The tucker trawl and manta net's brought in a fine sampling of phytoplankton and zooplankton such as squid larvae, ctenophores, a variety of juvenile fish, and lots of krill.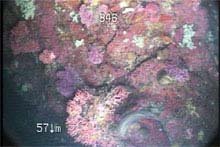 ---
The crew on the McArthur actually delivered a jar of krill to us in the Oceanographic lab that was recovered from the intake valve on the ship. The waters are indeed very productive right now!
The first ROV (Remote Operated Vehicle) dive took place and lasted almost five hours. The ROV crew successfully navigated to the edge of Cordell Bank and spent most of the time documenting the soft sandy bottom habitat dominated by 6 foot wave cut patterns.
A mixed flock of seabirds lingered around the McArthur all day, including Black-footed and Laysan Albatross', Western Gulls, and a northern Fulmar.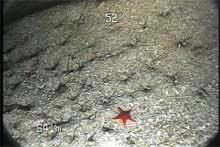 ---
May 27, 2002
The weather couldn't be better, flat and calm seas all day contributed to 2 four hour dives with the ROV on Cordell Bank. Each survey has been the first time actually seeing these habitats.
The orchestration between the control of the ship, in coordination with the ROV, and cooperation of weather contributes to this success.
Habitats surveyed were sandy, boulder, rocky reef, pinnacles, and cobbles. Most of the dives were between 70 and 90 meters, revealing mixed schools of blue, yellowtail, and widow rockfish, scattered lingcod, and a six-gill shark.
Acoustic transects run while the ROV is not in the water, giving a profile of the zooplankton abundance in the waters. Nighttime plankton collection continues into the night.
---