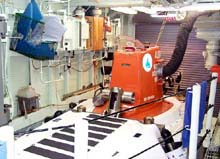 ---
An End and a Beginning
September 15, 2001
Rebecca Cerroni
Institute of Marine and Coastal Sciences
Rutgers University
"All I ask is a tall ship and a star to steer her by." --- John Masefield
We were all filled with a sense of anticipation mixed with anxiety the morning before we neared Woods Hole, Massachusetts. We had collectively experienced some incredibly interesting scientific finds while exploring largely unknown deep-sea corals and associated fauna, but we also experienced a sense of devastation as we heard word from shore, and from home. Many of us were sad that our Voyage of Discovery had come and gone so quickly. Others were relieved to meet their families on shore in the midst of this national disaster. Out at sea, we had listened to the reports from shore on the radio, but had not seen very much in the way of video footage. Our news trickled in via e-mail and the crackly radio, and as a result, we felt a bit isolated.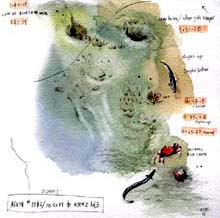 ---
Many of us thought about the positive memories that we would take away from this first leg of the Deep East Expedition. I recalled standing at the bow of the ship after dinner on Monday evening, Sept. 10, and watching as a pod of dolphins relaxed and let the boat's draft carry them through the ocean. Scientist Scott France's favorite moment was on Monday's Alvin dive into Oceanographer Canyon, where he saw dense fields of deep-sea corals. Educator Diana Payne thought about getting the chance to experience being a passenger in Alvin on Wednesday evening, when the pilots invited the nondiving science crew to climb inside while the sub rested in its hangar.
The crew of the research vessel (R/v) Atlantis will stay aboard the ship for 5-1/2 more months, but on Sept. 15, the Leg 1 science team members got off the ship and tried to figure out how to return to their respective homes in Maine, Connecticut, New York, South Carolina, Florida, and Canada. With transportation so uncertain, we all scrambled to reserve flights, trains, buses, and rental cars.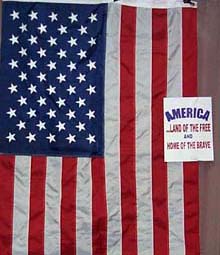 ---
The Leg 2 scientists are coming on board and will start setting up their equipment tonight, which they will use to explore the Hudson Submarine Canyon, off the coasts of New York and New Jersey, from Sept. 16-20, 2001. This group, which came in from New York and New Jersey, has been very flexible in the past few days. First, their port of departure was changed from Staten Island, NY to Woods Hole, MA. Responding quickly, they found a way to bring 20+ scientists, graduate students and educators from New Jersey to Cape Cod. The chief scientist of Leg 2, Dr. Fred Grassle, learned today that security clearance for their first dive had been rescinded, and that they will have to wait until tomorrow (Sept. 16) to depart from Woods Hole.
As I stepped onshore from the R/V Atlantis, I felt sad that I would not be continuing on to Leg 2, as originally planned, since my home was only blocks from the destruction in New York City. I thought about my home science team from Rutgers University coming aboard tonight and wished them the best of luck, as I remembered that exploration would persevere.
(top)
---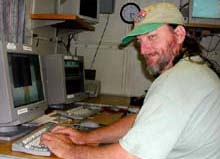 ---
Interview with Dave Sims
SSSG Technician, R/V Atlantis
Ocean Explorer Team: What are your responsibilities aboard the Atlantis during the Deep East Expedition?
Dave Sims: My responsibilities are to take care of all of the computer needs, scientific equipment, and any other technical support the scientists need. When the Alvin submersible does a deep ocean dive, besides bringing back biological samples, the sub's camera takes a live video of the dive. I take that video and make a duplicate in the ship's computer lab. I'm also experienced with the Alvin's launch-and-recovery procedures, and assist as needed. I'm pretty much a jack-of-all-trades.
Ocean Explorer Team: Were there any technical problems you had to solve during the first leg of the Deep East Expedition?
Dave Sims: Any problems? Well, one of the special requirements for Deep East is the large amount of data to be sent ashore. It's not so much a problem; it's knowing the process and working with the magnitude of information. Much of what is sent is e-mail, but with this expedition, we have had to work with pictures and text for the Web site, which is updated as often as three times a day.
In In the future, communications and computer technology may make it possible for a scientist on land to receive data in real time -- for example, from a shipboard CTD rosette that measures conductivity, temperature and depth. There are only so many places for the scientists collecting data on a ship, and real-time data transfers to shore could expand the number of scientists that can use a vessel on a particular cruise.
Ocean Explorer Team: What type of background do you have? What does SSSG stand for?
Dave Sims: I have a bachelor of science in computer science from the University of Maryland at Baltimore County. In addition, I gained experience with electronics in the U.S. Navy. What I have found valuable as well is shipboard experience. You need to know shipboard operations and get used to various computer systems. Even if scientists use microscopes, they still use computers to compile their data.
I would like to say that SSSG stands for "Super Smart Science Guy"! But to answer honestly, it's really an acronym for "Shipboard Scientific Services Group."
Ocean Explorer Team: What are some of the biggest projects you have undertaken as the SSSG technician aboard the Atlantis?
Dave Sims: Projects that involve teachers, like Deep East, are quite interesting and complex. The type of project we do most often involves research into hydrothermal vents. On one of these projects, we had the Alvin, the remotely operated vehicle (ROV) Jason, and the ABE (Autonomous Benthic Explorer) on ship all at once. The vehicles cannot run all at the same time, so we would get Alvin's dive in first. After that, we would get ABE in the water. ABE can sample throughout the night, so with ABE working in one area, we could move a bit, and conduct CTD operations, or any other necessary operations. At sunrise it was time to recover ABE and prepare Alvin. The cruise required a lot of preplanning and many hands on deck, and produced a large quantity of data to organize. The R/V Atlantis is a 24/7 operation, so the crew is scheduled in shifts to cover the work that goes on round-the-clock.
Ocean Explorer Team: What will you be doing while the Alvin is diving?
Dave Sims: After the Alvin has been deployed and the dive starts, I do various projects around the ship. I keep very busy dealing with the science equipment and providing technical support to the scientists working in the labs. Much of the work is preparation for Alvin's return to the surface and recovery on deck. All of the samples and video are then available for study. That's the busiest time. If I'm working at night giving technical support, I sleep during the day.
My job is always challenging, and I am fortunate enough to meet a lot of new and interesting people with each change of science groups (about every three weeks).
You don't have to be a scientist to do this job. An SSSG technician just needs to be resourceful, flexible, and versatile, and enjoy working with computers and new technology.
Interview by Caren A. D. Menard of the Ocean Explorer Team.

---
Sign up for the Ocean Explorer E-mail Update List.