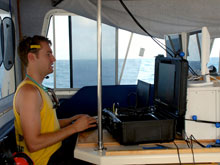 ---
Piloting an ROV
September 28, 2009
On most days, being an remotely operated vehicle (ROV) pilot might be classified as a dream job. It provides the opportunity to work in really cool locales with a technology that is quickly becoming an essential tool for underwater research. ROVs allow us to see the fish and invertebrates in the deep sea that would otherwise be hidden.
Piloting the small ROV is like playing a slow video game, except what you're controlling is real. (You really don't want to wreck this vehicle!) The system is user friendly, with a central joystick to control motion (up, down, front, and back) and buttons to operate the lights and cameras.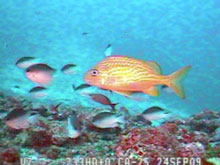 ---
Typically, I pilot the ROV in Monterey Bay on the Central California coast, studying the fish that live in soft sediment habitats. So I jumped at the opportunity to come to Bermuda and participate in this expedition, because I would get a chance to see unique habitats and colorful fish that I would never see back home.
The waters around Bermuda pose new challenges for me as I work to navigate the ROV in search of deep-water caves. The environment of Monterey Bay is almost the complete opposite of the environment that we are working in here in Bermuda. Instead of piloting over endless mud flats, I've had to learn to maneuver the ROV around the near-vertical, rocky shelf break under the seas around Bermuda. The rocky terrain makes navigation slightly more difficult as I have to be mindful of not snagging the ROV's tether on the rocks.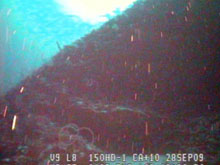 ---
Today's weather also proved to be a challenge with strong currents both at the surface and at depth. The strong surface currents made even deploying the ROV difficult, as we had to use a combination of the sea anchor and live-boat options to keep from drifting too far with the current. Although the ROV is equipped with thrusters for movement, when the current is strong, it can make descending to depth difficult. To fix that, we attached a drop weight to the ROV's grab-arm to make it sink faster. This required even more communication and coordination among members of the ROV team.
---
Sign up for the Ocean Explorer E-mail Update List.