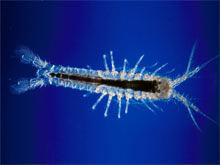 The peracarid crustacean order Mictacea is represented by only a single species, Mictocaris halope, which inhabits inland marine caves in Bermuda. Click image for larger view and image credit.
---
Bermuda: Search for Deep Water Caves 2009
September 5 – 30, 2009
Deep-water marine caves are one of the Earth's last largely unexplored frontiers of undiscovered fauna (animal life). More than 150 limestone caves are known to exist in or near the island of Bermuda. Many of these caves have extensive but relatively shallow submerged portions that connect to the sea via tidal springs along the coastline. These inland caves are inhabited by a number of diverse eyeless and colorless crustaceans and other invertebrates. Many of these organisms are "living fossils"; and some are most closely related to deep-sea organisms.
While previous investigations of marine caves have been limited to those within shallow depths (less than 50 meters/164 feet), current research suggests that caves can occur at almost any depth within the sea. The geological history of Bermuda, coupled with biological evidence (cave-adapted species), indicates a strong possibility for the presence of deep-water caves near the island. Thus, Bermuda offers an idea location to search for and to study deep-water caves.
The Search for Deep Water Caves is a series of expeditions. The researchers will be using a three-step approach to explore the seas surrounding Bermuda for deep-water caves. First, they will use multibeam sonar to survey the area and create a high-resolution map of the seafloor. They will look for cave entrances directly, as well as indirect indicators of the cave presence, such as schools of fish and plumes of "shimmering water." The second step will involve a remotely operated vehicle (ROV) to investigate sites identified by the sonar. Finally, divers using mixed gas rebreathers will locate and investigate deep-water caves.
The specific goals of this exploration are to characterize the natural history of the Bermuda platform, discover deep-water cave habitats, determine the origin and age of such caves, and observe and collect deep-water cave fauna for comparison with species inhabiting Bermuda's shallow caves.
Join us on this exciting journey of discovery!
You can access the Ocean Explorer Bermuda: Search for Deep Water Caves 2009 News Feed here:
---
Updates & Logs
Click images or links below for detailed mission logs and updates.

Mission Summary
The first phase
of this two-year expedition is a success! We mapped and then explored the seafloor surrounding the island of Bermuda and the nearby Challenger Bank.
September 28
Piloting an remotely operated vehicle (ROV)
allows explorers to work in really cool locales with a technology that is quickly becoming essential for underwater research.

September 27
Part of the Team
.
An undergraduate shares her experience helping with the ROV: "My job is to watch the tether, a bundle of electric and fiber optic cables that relays information between the ship and the ROV.
"

September 25
The SeaBotix LBV,
or little benthic vehicle, is a relatively small ROV. It's just the right size for work in coastal waters.

September 24
Experience the view behind the cameras
. There are lots of ups, downs, roll, and pitches when it comes to coordinating the Web reports and multi-media on any expedition — and this one is no exception.

September 21
Thunderstorms
keep us at the dock until mid-afternoon Sunday, when the sky clears and we head toward North Rock to explore with the ROV.
September 19
Setting up the R/V Endurance for the project
is essential. The systems and equipment we use in our search for deep-water caves include multibeam sonar and an ROV — both involve complex setups with many components.
---
Sign up for the Ocean Explorer E-mail Update List.