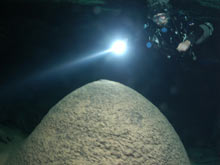 Professor Tom Iliffe examines a large stalagmite in the North Shore Passage of Green Bay Cave, Bermuda. Click image for larger view and image credit.
---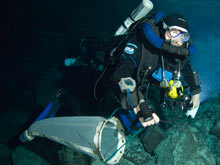 Diving with a Megalodon closed circuit rebreather, Tom Iliffe tows a plankton net through an underwater cave to collect small animals. Click image for larger view and image credit.
Mission Plan
The goal of the Bermuda: Search for Deep Water Caves expedition is to explore and characterize the upper edge of the Bermuda Pedestal and two adjacent mid-ocean seamounts to confirm the existence of deep-water (60- to 200-meter/197- to 656-foot depth) caves. We will also document wave-cut notches, drown reefs, terraces, and other features formed during Ice Age low sea stands of the Pleistocene epoch (roughly defined as the time period between 1.8 million to around 10,000 years ago).
In a series of expeditions, we will first use high-resolution multibeam sonar to produce detailed, geo-referenced maps of the areas of interest. Our aim is to locate potential deep-water caves and low sea stand benchmarks. This multibeam survey will be conducted under the leadership of Dr. Rikk Kvitek, director of the Seafloor Mapping Lab (SFML) at California State University – Monterey Bay.
During the second phase, we will use a little benthic vehicle (LBV) remotely operated vehicle (ROV) to examine and photograph sites of interest as identified by the multibeam survey. In particular, we will look for signs of water movements around potential cave entrances, such as congregations of schooling fish, tidal plumes of brackish (semi-salty) water, sand ripples, or unusual abundance of filter-feeding organisms, such as sponges.
Diving the Caves!
In the third and final phase, expert technical divers led by Dr. Tom Iliffe will explore the entrance cavern zone of the identified caves, collect biological specimens and place or recover instrument packages, including a current meter and water quality analyzer. Scuba dives to deeper water depths requires the use of special gas mixtures to reduce the partial pressures of both nitrogen and oxygen in the inspired gases. We will use mixtures of helium, nitrogen, and oxygen (called trimix) that are specifically selected and blended for the depth of the dive as well as closed circuit rebreathers, which recycle the diver's exhaled air to reduce gas utilization and allow for longer dives.
Discovering Cave-adapted Species
We anticipate discovering new cave-adapted species that are endemic (unique to the region) and that fill in missing links in our understanding of marine cave biodiversity, ecology, and evolution. Interestingly, many of Bermuda's endemic cave animals are most closely related to cave species on the opposite side of the Atlantic Ocean (e.g., Canary Islands, Mediterranean) or even in the Pacific (e.g., Galapagos, Hawaii, Palau), or to primarily deep-sea organisms.
This unusual biogeographic distribution of cave animals has commonly been attributed to a Tethyan origin occurring when all the Earth's continents were combined into a single land mass. However, Bermuda is a mid-ocean volcanic island that has never been part of or closer to a continent than it is today. Thus, all of the island's endemic cave fauna must have initially arrived either from shallow water transport via the Gulf Stream or from the deep ocean.
These expeditions will also provide precise data on the location and chronology of glacial low sea level stands during the Pleistocene. In a time of immense concern over the potential effects of climate change, our investigations should provide fresh insights into the extremes that sea level has reached and on the rate of sea level change.
Partners with the Cambrian Foundation
In addition to describing new cave species and other scientific observations, we plan to partner with the Cambrian Foundation for our educational outreach activities. The foundation is a not-for-profit research/education group based in central Florida that is actively involved in surveying and mapping underwater cave systems, documenting new cave species, and monitoring water quality in endangered subterranean systems from Florida, Mexico, and Bermuda.
The Cambrian Foundation allows and encourages students of all ages to not only witness but also to participate in research expeditions. This helps them to understand the importance of protecting such delicate interconnected aquatic systems while at the same time actually experiencing what it is like to work within the broad field of environmental science.
---
Sign up for the Ocean Explorer E-mail Update List.