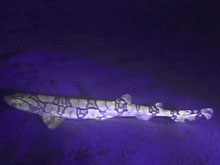 Fluorescent chain catshark at 600 meters depth from the Ocean Explorer Operation Deep Scope expedition in 2005. This shark was no more than a meter long. Click image for larger view and image credit.
---
Crazy for Catsharks
September 28, 2008
Let's face it. Not many people really love corals just for what they are. They appreciate corals because of what they do for other animals, the real favorites, like fish, shrimp, and crabs. It's OK. It doesn't hurt my feelings. As a coral biologist, I've come to terms with the fact that part of my job is to make these connections.
One of these connections is starting to win me over, actually. Ever since the Deep Sea Habitats Expedition in 2003, I'm just crazy for catsharks. Catsharks are a diverse group of small (less than one meter) benthic sharks that are found in the deep sea worldwide. They are increasingly popular in the aquarium trade because of their small size and their striking coloration. Some catsharks are even fluorescent.
The Chain Catshark Scyliorhinus retifer in its natural habitat, surrounded by anemones, sea fans, and corals in 300 meters of water on the seafloor in the Gulf of Mexico.

Click image to view a video.
---
Six species of catsharks are found in the Gulf of Mexico, including the Small, Broadgill, Chain, Marbled, Iceland, and Campeche catsharks. These species range from 50-1,850 meters (m). They are oviparous, meaning they lay eggs. Their egg cases have long trailing tendrils that wrap around kelp and corals to hold them in place. Sometimes they are wedged between rocks. You may have seen the cases washed up on shore. People call them "mermaid's purses."
We have encountered three different catshark individuals on this expedition so far. One of in shown in the video. We believe it is the Chain Catshark Scyliorhinus retifer. These catsharks appear to be common in the Gulf. This is the third deep-sea expedition to document them alive in their natural habitat.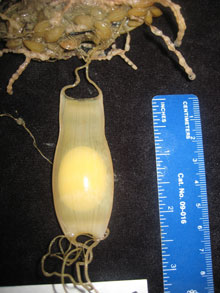 This egg case was collected accidentally while sampling a large black coral. It was unhatched, one of two specimens brought aboard by the SeaViewer Falcon remotely operated vehicle. Click image for larger view and image credit.
---
One of the questions we are asking about catsharks is "where can they lay their eggs?" There's no kelp in the deep sea, so the choice of substrates is limited. We found over 1,000 eggs attached to the deep gorgonian Callogorgia americana delta at 500 m depth in the Mississippi Canyon in 2003. But, the eggs were all hatched and we could not identify the species.
Today we got another clue. While collecting a deep coral sample at 300 m, we found yet another egg case. It was one of two cases. One was unhatched, so it is ripe for analysis. So, the mystery grows, and the search continues!
---
Sign up for the Ocean Explorer E-mail Update List.