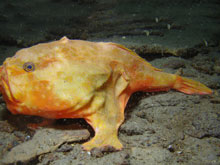 A redeye gaper at 240 m depth at the Green Canyon site. Click image for larger view and image credit.
---
Deep-water reef communities form important feeding and spawning habitat for large predators such as snowy grouper. Click image for larger view and image credit.
---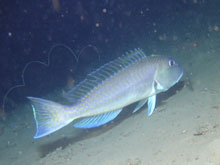 A golden tilefish (Lopholatilus) on soft sediment with a coiled seawhip in the background. Click image for larger view and image credit.
---
Deep Reef Fishes of the Gulf of Mexico
September 26, 2008

View a video of a snowy grouper, a large predators in the Deep-water reef community habitat. (Quicktime, 2.1 Mb.)

View a video of a redeye gaper venting water at 240 meters at the Green Canyon. (Quicktime, 1.2 Mb.)
The northern Gulf of Mexico harbors a wide variety of rocky reef habitats for fishes, ranging from the shallow siltstone and sandstone reefs of mid-shelf banks including Stetson and Sonnier Banks and the diverse coral reefs of East and West Flower Garden Banks to carbonate boulders and slabs and the delicate Lophelia reefs that develop on mature seep sites on mounds of the upper to mid-depth ranges of the continental slope.
Shallow reefs of the Gulf of Mexico are home to large schools of reef fishes; these fishes are gradually replaced by scamp, marble grouper, gag, and red snapper on deep coral reefs between 45 and 100 meters (m). At greater depths, to approximately 300 m, the large-bodied groupers, which appear as snowy, yellowedge, and the massive Warsaw grouper (which can grow to over 400 pounds), become the dominant apex predators. Below 300 m, large predators are rare, occasionally represented by the wreckfish and many species of sharks.
Plankton feeders follow similar trends, as deep coral reefs are dominated by large schools of streamer basses such as roughtongue bass, red barbier, and threadnose bass, while rocky reefs below 100 m are home to the larger yellowfin bass and longfin bass. Other small fishes appear in deeper rocky reefs, including roughies such as Darwin's slimehead, the deepbody boarfish, the blackbelly rosefish, and a variety of hakes.
Reef fishes are known for their rainbow of colors and wide variety of body shapes, attracting SCUBA divers and underwater photographers to coral and rocky reefs worldwide. Many deep reef fishes are also very colorful and include some of the most brightly colored species in the Atlantic, such as the Spanish Flag and many of the streamer basses.
Little is known about the biology of many deep reef species, as they are difficult to sample by nets, trawls, or hook and line. Recent advances in deep SCUBA diving equipment, including mixed gas diving and closed-circuit rebreathers, has allowed for detailed surveys of deep reef communities and collections of many new species. These surveys have shown that deep reef areas are home to many new species that are completely unknown to science.
Increased resolution of digital video and still camera systems has also permitted scientists to document many species remotely by submersible or remotely operated vehicle (ROV), including the SeaViewer Falcon ROV being used on this mission. So far on this mission, we have seen reef communities on the upper continental slope dominated by groupers, yellowfin bass, and deepbody boarfish, and a strikingly different community deeper on the slope dominated by roughies, hakes, scorpionfishes, and the occasional red gaper.