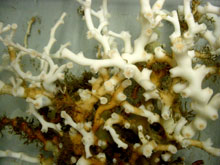 Lophelia pertusa collected from the Viosca Knoll site in a tank on board from a previous research cruise. Click image for larger view and image credit.
---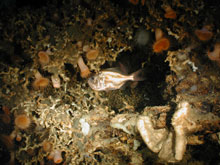 Lophelia pertusa create habitat for a number of other species at a site in Green Canyon. Click image for larger view and image credit.
---
Climate Change, Carbon, and Cold-water Corals
September 24, 2008
As our atmosphere warms as a result of increased carbon dioxide (CO2) emissions, the ocean is changing as well. The ocean is a "sink" for CO2, and absorbs approximately 20-30 percent of the CO2 produced by humans.
As CO2 levels in the ocean increase, they alter a fundamental chemical dynamic that is important to coral survival. Corals depend on calcium carbonate (CaCO3) to make their skeletons. Some cold-water corals, such as Lophelia pertusa, use the mineral aragonite as their source of CaCO3. When CO2 dissolves in seawater, it interacts with water molecules (H2O) to form bicarbonate (HCO3-), carbonate (CO32-), and hydrogen (H+) ions. As the concentration of H+ ions in the seawater increases, seawater pH decreases. The ocean generally has a pH that is slightly alkaline, with values between 8.0-8.2. With more H+ ions floating around, the pH of the ocean will change. This change is called "ocean acidification," which is something of a misnomer because the ocean's pH value will get closer to – yet never reach – an acidic value. The increase in H+ ions (as a result of increased absorption of CO2) changes the chemistry of seawater as more carbonate (CO32-) in the water is converted to bicarbonate (HCO3-).
As the relative amounts of carbonate and bicarbonate change (changing the saturation state), it is more difficult to lay down calcium carbonate. Scleractinian corals, including Lophelia pertusa, are stony corals that lay down calcium carbonate as the mineral aragonite. Aragonite must be saturated in the water for the corals to thrive, and there is a depth limit at which aragonite ceases to be saturated and becomes under-saturated. This limit is known as the "aragonite saturation horizon," and it is changing as the pH changes. As the aragonite saturation horizon changes and becomes shallower, corals in the deep sea struggle and will not be able to calcify as much as they previously could.
Scientists expect that with reduced calcification, corals will have weaker skeletons, slower growth, and an increased susceptibility to erosion. Since corals provide other marine organisms with habitats and breeding grounds, the change of the aragonite saturation horizon will affect these other organisms as well. This includes many fish that are caught for commercial use.
We will be collecting Lophelia to test its response to changing pH in a series of lab experiments. This will help us to understand what the potential effects of ocean acidification will be on deep-water corals in the future.
So what can you do to help the corals and associated fauna of the deep? Walk more, drive less, volunteer to plant trees, and keep your fingers crossed that we won't lose these precious organisms.