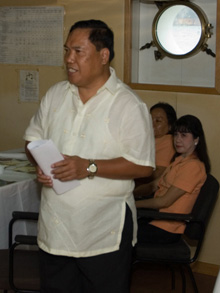 Rodolfo Agaton, director of the Philippine National Mapping and Resource Information Authority, speaks at the send off ceremony. Image courtesy of 2007: Exploring the Inner Space of the Celebes Sea.
---
Anchors Away!
October 2, 2007
Caron De Mars
Environment, Science, and Technology Officer
U.S. Embassy, Manila
The Philippine National Mapping and Resource Information Authority (NAMRIA) was on hand for our send-off ceremony on October 1. NAMRIA Director Rodolfo Agaton and Press Director Linda Papa wished us well. Chief Scientist Larry Madin said a few words about our project and I expressed gratitude for the Philippine government authorities' cooperation in making this project a reality. After the ceremony, we celebrated the birthdays of University of California Los Angeles researcher Peggy Hamner and remotely operated vehicle (ROV) technician Toshi Mikagawa. The ship's caterers presented a chocolate cake and a vanilla cake for everyone to enjoy, and Captain Jun Pascual led two robust rounds of "Happy Birthday to You."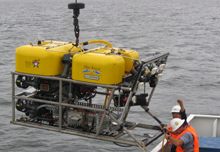 The remotely operated vehicle (ROV) is hoisted back onto the deck after its successful test dive. Mike Nicholson and Toshi Mikagawa direct the winch operation and guide the ROV over the rail. Image courtesy of 2007: Exploring the Inner Space of the Celebes Sea.
---
We finally threw off our mooring lines at our dock in the Port of Manila at 1:15 pm. Once beyond the harbor's breakwater, the star of the show — the ROV — made its Philippine debut with a dip overboard to be sure all of its mechanisms worked. The ROV's video cameras recorded the murky surface water with high resolution, and we were thrilled with the ROV crew's pronouncement that all went well. Once the ROV was strapped down on deck again we passed by Corregidor Island and entered the rough waters of the South China Sea. The catering crew and more than half of the ship's passengers succumbed to seasickness as the ship rocked and rolled, and they went down for the count. The hearty few still standing scavenged our stores of snacks for an early evening picnic of fruit, miniature candy bars, bread, liver paté, carrots, and cashews, then turned in for the night.
Early this morning, our ship passed into the protected Tablas Strait between the islands of Luzon and Mindoro, and the waves dropped. At 7:30 am we admired a rainbow forming over Mindoro Island and recorded our position from the electronic chart on the ship's bridge — Latitude 13º 05'N, Longitude 12º 37'E. For now, we are back to gentle rolling, rather than giant heaving, so all hands are back on deck!
---