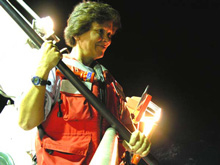 Elementary educator Reneé Green participating in nightlighting operations. Click image for larger view and image credit.
---
Life in a Floating Classroom
October 24, 2005
As Educator-at-Sea I have been blessed with an adventure of a lifetime. All preconceived notions of life at sea have been dispelled by my actual experience. First of all, I have learned that listening is the key to learning. As I observe the scientists and the crew as they go about their routines, I take notes, ask questions, and plunge into hands-on learning whenever the opportunity arises.
I have interviewed the scientists about their elementary science education background. Many of them recall simple experiments such as the celery in the colored water, and learning that salt lowers the freezing point while making homemade ice cream. That these accomplished scientists recall their elementary background fills me with honor as an elementary educator -- to be in a position where my lessons may inspire a future scientist.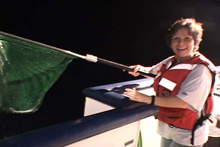 Reneé Green and a specimen of halfbeak she caught during a nightlighting session. Click image for larger view and image credit.
---
I have also observed the importance of a good education to succeed at one's job. The science team is constantly using computer skills, researching information from books, plotting points on graphs, estimating possible dive sites from sonar data, and discussing information they gather from the collections. During their off duty hours, reading is the chosen form of entertainment of both scientists and the crew.
My experiences have included participating in the nightlighting operations by recording the log and catching three flyingfish and two halfbeaks; helping set and retrieve the Neuston net; monitoring the Knudsen sonar data, moving heavy containers of alcohol used for preserving samples; answering email questions; and helping sort and store the specimens.
My most exciting experience by far was my dive in the submersible. What an awesome experience! I felt completely calm and humbled as I watched the view from the porthole during the dive. I was overwhelmed at the quietness, the beauty, and the peacefulness of life undersea.
Life on the Edge will be sending daily reports from Oct 16 - Nov 4. Please check back frequently for additional logs from this expedition.
---
Sign up for the Ocean Explorer E-mail Update List.