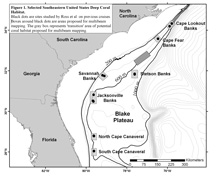 Figure 1. Map generated using ArcMap software giving an overview of the 2004 expedition cruise plan. All information on the map, aside from the text, is georeferenced and spatially accurate. Click image for larger view and image credit.
---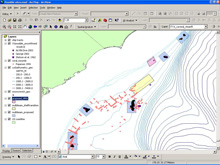 Figure 2. Screen capture of an ArcMap scene containing several layers of data. The left side of the image is a list of the data files included in the map. Check marks indicate that the layers are active (visible). Any data containing spatial information (latitude and longitude) can be displayed in such a scene. Data layers can be turned on or off as needed. Click image for larger view and image credit.
---
Collaborative Mapping: the role of GIS in modern research
October 19, 2005
The Life on the Edge 2005 team is working on seafloor mapping today. Here is an essay on the technology and techniques that they will be employing.
Seafloor Mapping: Not just for geologists anymore….
Challenges of seafloor mapping
While aboard the Seward Johnson we will conduct multiple submersible dives to the seafloor where physical, chemical, biological and spatial data will be collected. Onboard software allows us to accurately track the submersible, collecting information on latitude, longitude and depth. With this information we can produce three-dimensional maps of the seafloor while tying a huge amount of data (including continuous video recordings) to these coordinates. Many of these data can be continuously uploaded and converted into mapping files while still at sea. In this way we will be able to see the data in real time and real space, allowing us to check for errors or to give closer focus to areas of particular interest.
Even with the use of submersibles, gathering data on a fine-scale in areas that have not been thoroughly explored continues to be extremely challenging. Just getting to these sites is often difficult and expensive. It is for these reasons that interagency collaboration is so essential to the success of projects such as this. Data we collect are also contributing to other efforts whose goals are deep sea bottom habitat classification. For example, we are involved with The Southeast Area Monitoring and Assessment Program (SEAMAP) and Southeast Deep Sea Coral Initiative (SEADESC), both of which are using existing data to document continental slope bottom types in the area. We are beginning to make progress on the enormous task of detailed characterization of complex bottom habitats.
Why habitat mapping matters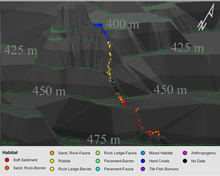 Figure 3. Example of a three-dimensional depiction of changes in habitat over the course of a single submersible dive track. As we gather more detailed bottom contour data, our maps will show increasing details. This, matched with the first hand view provided by the submersible, is a powerful way to describe the sea floor. Click image for larger view and image credit.
---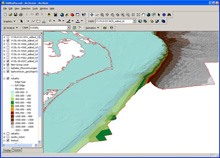 Figure 4. Screen capture of the 3-D mapping program, ArcScene. In this program bathymetric data can be turned into realistic surfaces over which information collected during the dives (or other sample collections) can be projected, rotated, queried and interpreted. Displayed here is the continental shelf break off of Cape Hatteras. Click image for larger view and image credit.
---
To GIS or not to GIS
Bringing it all together
The final step in any GIS project is providing information to other researchers, government agencies or the public. Further exploration and mapping of the ocean floor will undoubtedly reveal many other unique habitats that require additional attention. Collaborative efforts, such as this expedition, bring information stored in the depths to light, and mapping plays a significant role here.
Life on the Edge will be sending daily reports from Oct 16 - Nov 4. Please check back frequently for additional logs from this expedition.