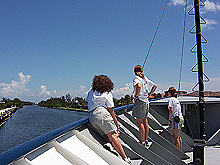 Dreams and Challenges
August 20, 2004
Jeff Jenner
NOAA
Web Coordinator
I think you need to have more than one dream. That way, if one doesn't work out, you always have another.-- Gloria Steinem
"I dreamed about doing this since I was a kid," said Dr. George Sedberry, standing on the deck of the research vessel Seward Johnson, looking up at the Johnson-Sea-Link II research submersible. "And I am doing it."
I heard much the same thing from the other scientists as we prepared to leave the Harbor Branch Oceanographic Institution dock.
Eight marine biologists, five graduate students, two engineers, a teacher, a geologist, and a wildlife biologist make up the 18-person science party for the Estuary to the Abyss Expedition, sponsored by the NOAA Office of Ocean Exploration.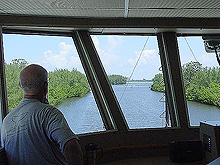 Living the dream
After 32 years in marine biology and more than a thousand hours under water (including 20 dives in the
Johnson Sea Link
), George Sedberry is no less excited about his twenty-first dive tomorrow than he was about his first.
Dr. Sedberry's interest in the sea started early. When he was ten years old, he read Half Mile Down by William Beebe and The Sea Around Us by Rachel Carson. He had never seen the ocean, but that was where he wanted to be. About that same time, his parents moved to the shore of Chesapeake Bay.
His dream led him to Old Dominion University; the Virginia Institute of Marine Science, College of William and Mary; and ultimately to the Marine Resources Research Institute of the South Carolina Department of Natural Resources, where he is assistant director.
He also teaches at the Grice Marine Lab at the College of Charleston. In fact, one of his graduate students, Christina Ralph will ride in the aft compartment of the Johnson-Sea-Link II tomorrow to help Dr. Sedberry capture and narrate video and still photos of marine life at the first dive site, known as Sponge Cliff.
Leaving the dock: A major challenge
Preparing for a scientific cruise has its challenges, the main one being that everything and everyone must be on board when the ship leaves the dock. This requires a great deal of planning, organization, and cooperation (and even luck).
Consider the factors on this cruise. Eighteen people had to drive or fly from four states to Ft. Pierce, FL. A truckload of scientific equipment and chemicals had to get from Charleston to the ship. Assorted overnight packages with critical pieces of equipment had to make their way to the ship; one arrived just before the lines were untied. All kinds of last-minute items -- stopwatches, tape, a hand pump -- came from local drug and discount stores.Then there were sodas, batteries, extra bars of soap, and no-spill coffee mugs. That was just yesterday, our "mobilization" day.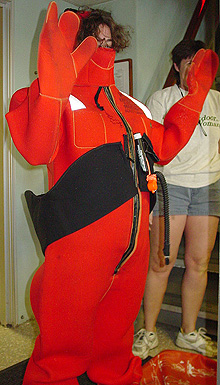 Another big challenge of an exploration-type cruise is that we don't know exactly what we will find. So we have to prepare for many possibilities. That's why we began our departure day with a two-hour science party meeting to discuss how to deal with the unknowns as well as schedules, sample collection strategies, assignments, and lessons learned from previous expeditions. We spent an hour briefing on ship safety, which included a demonstration by our Educator-at-Sea, Katrina Bryan, on the use of a survival suit. That was followed by an hour-long briefing on sub safety by the chief sub pilot, Craig Caddigan.
During the meetings, two tanker trucks fueled the ship. (They had left Miami an hour late and had to drive through heavy traffic.) Luckily, they finished just in time for a 1:30 p.m. departure, which had to happen on schedule to coincide with high tide in the Ft. Pierce Inlet.
Finally, we started unpacking, setting up, and organizing, with many of us working well into the night. Everything must be ready for the first dive at 4 pm. tomorrow.
A brief spell of down time

For about an hour after the ship pulled away from the dock, and before the first safety briefing, we had nothing to do but watch the ship slowly and quietly move through the narrow channels of the Indian River Lagoon. For some, this part of the cruise was a time for reflection: to think about why we are doing this and how we got here.
Like Dr. Sedberry, I too have dreamed of doing this since I was a kid. And, like Dr. Sedberry, I was always fascinated by both space and the ocean.
My opportunities came from the space program. Fourteen years ago, I attended a series of lectures on technical innovation, where Bob Ballard, Leonard Nimoy, and Sylvia Earle convinced me of how desperately the ocean needed our attention. My career change took about 10 years.
As I write this log, the ship passes Cape Canaveral and the John F. Kennedy Space Center, where I spent the first day of my 19 years in the space program. I have to ask myself if it was worth leaving a comfortable career with NASA and spending 1,200 or so hours studying oceanography and marine science to work in the ocean and do things that I have never done before. Today, I have to say that it was.
---
Sign up for the Ocean Explorer E-mail Update List.