NOAA Ocean Exploration Webinar for Educators – Lost French Fleet of 1565 Expedition 2014
August 25, 2014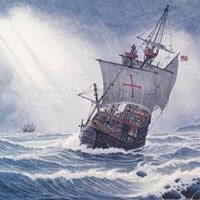 ---
The NOAA Office of Ocean Exploration and Research invites formal and informal educators to participate in a webinar to introduce educational resources developed for an ocean exploration mission to search for the Lost Fleet of 1565, off the coast of Florida. 

This summer ocean explorers have been searching for a series of fleets that were sent to colonize the wilderness of La Floride starting in 1562, alternatively lead by sea captains Jean Ribault and René de Laudonnière. The French at Fort Caroline (present-day Jacksonville) came to a dramatic and bloody end with the arrival of their bitter enemy, a Spanish Catholic force under command of Pedro Menéndez. The rivalry ended during a sudden and tremendous storm, which wrecked the French galleons and resulted in the massacre of the shipwrecked survivors by Menéndez. It was thus the Spanish that founded the first and oldest city in America, St. Augustine, in 1565. The year 2015 marks the 450th anniversary of these formative events. 

This 60-minute webinar will provide an introduction to the expedition and the associated Education Expedition Module, including lessons and other resources to enable you and your students to delve more deeply into the expedition online. Resources presented will be archived for use during the upcoming academic year. 
Title: NOAA Ocean Exploration Webinar for Educators – Lost Fleet of 1565 Expedition 2014
Date: Monday, August 25, 2014
Time: 7:00 PM - 8:00 PM EDT
After registering you will receive a confirmation email containing information about joining the Webinar.
Please be very aware of the system requirements listed below and ensure they are working prior to the beginning of the Webinar.
---
System Requirements
PC-based attendees
Required: Windows® 7, Vista, XP or 2003 Server
Mac®-based attendees
Required: Mac OS® X 10.6 or newer
Mobile attendees
Required: iPhone®, iPad®, Android™ phone or Android tablet