NOAA Ocean Exploration Webinar for Educators – Hidden Ocean - Chukchi Borderlands Expedition 2016
June 28, 2016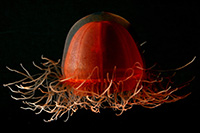 A a deep red medusa found just off the bottom of the deep sea. Credit: K. Raskoff.
---
The National Oceanic and Atmospheric Administration's (NOAA's) Office of Ocean Exploration and Research invites formal and informal educators to participate in a webinar to introduce the summer ocean exploration mission to explore the unknown realms of the Chukchi Borderlands, a region north of Alaska with water depths ranging from the shallow shelf edge to 3000 meters. Here there is a dynamic mixing of waters from the Arctic, Pacific and Atlantic that moves over a complex array of canyons, ridges, trenches.
The sea ice, pelagic and benthic communities of this region are tightly linked physically, chemically and biologically, yet these interactions are poorly understood. This mission is a multifaceted, multidisciplinary exploration to better understand the interdependence of these three marine communities (and more), in the wake of rapid environmental change.
July 2 to August 10, 2016, explorers will use a combination of photographic mapping, physical sampling, and state-of-the-art metagenomics to assess the diversity of this region to better understand the sea ice, pelagic and benthic realms and how they influence one another.
This work will contribute to improving baseline observations and understanding of Arctic climate and ecosystems.
This 60-minute webinar will provide an introduction to the expedition by Dr. Katrin Iken of the University of Alaska - Fairbanks and an overview of the associated education products, including standards-based lessons and other resources to enable you and your students to delve more deeply into the expedition online.

Title: NOAA Ocean Exploration Webinar for Educators – Hidden Ocean - Chukchi Borderlands Expedition 2016
Date: Tuesday, June 28, 2016
Time: 7:00 PM EDT
Questions: susan.haynes@noaa.gov
Register: https://attendee.gotowebinar.com/register/6297114573539619585
After registering, you will receive a confirmation email containing information about joining the webinar.
View System Requirements