NOAA Ocean Exploration Webinar for Educators – Exploring the Sunken Heritage of Midway Atoll 2017 Expedition
April 27, 2017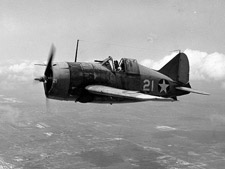 Brewster F2A-3 'Buffalo' fighter. Image courtesy of Papahānaumokuākea Marine National Monument
---
The National Oceanic and Atmospheric Administration's (NOAA's) Office of Ocean Exploration and Research invites formal and informal educators to participate in a webinar to introduce the spring ocean exploration mission to Explore the Sunken Heritage of Midway Atoll in Hawaii.
Few places represent the legacy of World War II like Midway Atoll. Located within Papahānaumokuākea Marine National Monument and World Heritage Site, the sunken history left undiscovered at Midway represents the material remains of one of the most consequential events in the history of the War. From May 2 to May 16, explorers on the Exploring the Sunken Heritage of Midway Atoll Expedition will search for and explore sunken aircraft associated with the Battle of Midway. Much of the famous air battle took place near the atoll, and the remnants of dozens of historic aircraft may rest beneath the surface. This exploration will help us better understand and interpret the human stories associated with this significant battle.
This 60-minute webinar will provide an introduction to the expedition and the associated education products, including standards-based lessons and other resources to enable educators and their students to delve more deeply into this expedition online.
Date: Thursday, April 27, 2017
Time: 7:00 PM EDT
Questions: susan.haynes@noaa.gov