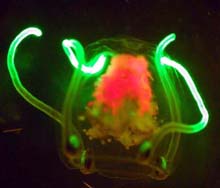 ---
Classroom Exploration of the Ocean: An Online Virtual Teacher Conference

April – December 2003
The National Oceanic and Atmospheric Administration's (NOAA) Office of Ocean Exploration and the National Geographic Society will cohost a 9-part virtual teacher workshop series to identify how the excitement of ocean exploration can enhance learning in the classroom. The series will run from April through December 2003.
Dr. Sylvia Earle, National Geographic Explorer-in-residence, and Captain Craig McLean, Director of NOAA's Office of Ocean Exploration, will introduce these workshops and inspire teachers to dive into ocean education in their classrooms. Experts will present keynote lectures and facilitate open discussions. Teachers will receive relevant information for their classrooms. "Teacher Consultants" will provide first-hand experience on introducing ocean-related topics to students, and provide a network of peers to provide advice and answer questions.
Teacher resources will include access to research findings and lesson plans, links to news stories, magazine articles, and video clips, and Internet links to help students become ocean literate. The workshops will introduce a wide array of topics linked to the National Geographic's Ocean Atlas Teacher's Guide, NOAA's Office of Exploration lesson plans, and the new "Oceans Scope and Sequence Matrix" for K-12 Teachers.
Visit the CEO Web site
to find out more about the workshops and to register.