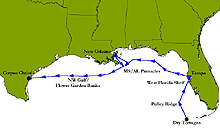 ---
Sustainable Seas: Eastern and Western Gulf of Mexico 2002 Expeditions
July 14 - Aug. 15, 2002
The Sustainable Seas Expeditions is a five-year project of underwater exploration and discovery of the marine world with special emphasis on the National Marine Sanctuaries of the United States.
Click links for previous Sustainable Seas mission coverage:
2002 Project Summary

The Sustainable Seas: Eastern and Western Gulf of Mexico 2002 Expeditions will explore protected and non-protected coral and hard bottom communities beginning in the Florida Keys National Marine Sanctuary in the Dry Tortugas Ecological Reserve. The expedition then will move north and west to explore the paleoshorelines along Pulley Ridge, an area approximately 150 miles southwest of Tampa, Florida. After Pulley Ridge, the expedition will follow a counterclockwise circuit around the Gulf of Mexico and will move into the western portions of the Gulf, ending at the Flower Garden Banks National Marine Sanctuary in mid-August.

This expedition will build upon the body of knowledge collected during the 2001 Islands in the Streams Expedition by focusing characterization efforts on areas that are ecologically important in the connectivity of the eastern Gulf of Mexico, and to further investigate the functional relationship of the biological and geological features in these areas. Additional investigations will focus on area-specific issues related to management activities, including assessment of anthropogenic impacts on habitat (e.g., anchoring and trawling), and the presence of spawning stocks or aggregations of fish and invertebrate species.

Partners

The expeditions have been spearheaded by Dr. Sylvia Earle, scholar and Explorer-In-Residence of the National Geographic Society
. Led by Dr. Earle, the expeditions are a project of the National Geographic Society in cooperation with the National Oceanic and Atmospheric Administration (NOAA) and other government agencies, industry, and private institutions, made possible by a grant from the Richard and Rhoda Goldman Fund
. The National Geographic Society, an institution recognized for achievement in exploration and conservation for over a century, is overseeing the project. Ship and staff support are provided by NOAA, which manages the federal National Marine Sanctuary Program and is known for its extensive experience in marine research, exploration, data acquisition and product development. Oceaneering, Inc.
which has provided the Multi-service Vessel (MSV) Ocean Project for the 2002 Gulf of Mexico Expeditions, also is providing support. The DeepWorker and DeepRover submersibles are provided by NUYTCO Research LTD
.
---
Sign up for the Ocean Explorer E-mail Update List.